Toon's first two Scandinavian pair
Words by Kevin Doocey on .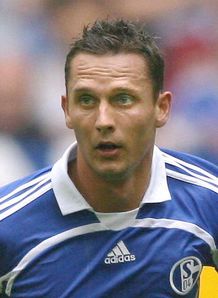 It seems that Newcastle are close to completing their first signing of the January transfer window, not one but two players making their way to NUFC. Reports are already suggesting that Peter Lovenkrands has agreed a move to Newcastle in favour of a dramatic return to his former club, Rangers. It is no secret that Lovenkrands is a decent player and still quite young although he seems to have been around forever :D. The transfer would be on a free as Peter has left Schalke days ago, he never settled in and didn't play for the Bundesliga team all that much. I for one would take him as he is pacy, and darts in from either wing. It would be good backup for the likes of Duff and the always departing Charles N'Zogbia 😐 Who knows Lovenkrands may well have enough to replace indeed Duff and Charles on the wing and start permanently 🙂 Saying all this no paper has been signed as far as we know but I suspect Newcastle fans would welcome him at St.James'
Another man who I mentioned in yesterdays article could be on his way too is John Arne Riise from Roma. Riise hasn't had the most successful stunt at Roma and his chances have been limited at LB or LM. Riise has the ability to play regularly (and score scorchers of goal with his left :P) and he may be the man we just need. The proposed deal for Riise is supposedly a season long loan with an option of a £6m move in the summer, if you ask me, that's a lot of money for a player who has to prove himself in the Premier League once again, £6m is nothing to Ashley though considering he plays with that type of money at casinos.
Yesterday I reported that Elano could be close of a move but reports are suggesting this will only happen if Geremi and Barton departs. I hope Barton won't leave as we've rejected two bids for him already and he has a lot to offer NUFC, on that pitch that is. Elano would be a fine addition and I certainly think Kinnear could tame his pesky attitude and perhaps get the very best from the Brazilian AM.
⚫️ ⚪️
---
Share Article On:
---
Filed Under: