Newcastle will avoid relegation
Words by Kevin Doocey on .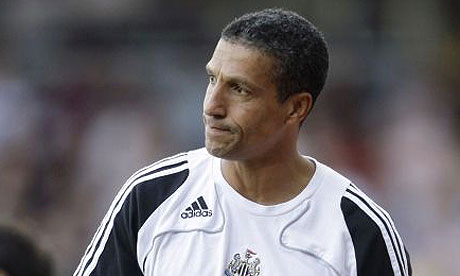 To be honest I'm sick of hearing and seeing it all over the papers, of us going down, or of us in turmoil etc. There is no doubt we are in a position that isn't comfortable but to say we're about to exit the Premier League is sad, really sad. We look at Stoke for example, they have done well so far but have played, shall we call it football? all season which doesn't allow teams to play, only United have unlocked them, who we happen to be playing next week 😀 We will score goals, we will get wins and most importantly we will resume our Premier League status in May.
Don't doubt Newcastle and certainly don't doubt our ability to play when we need to however, hands up, we've been dreadful in some games with Bolton on Sunday not far short of it. Obafemi martins has looked sharp and soon enough he'l be scoring again, a victory at United would be perfect 😀 Once he starts scoring, we will score goals as you would have gathered by now 😀 then we will move up the table with some results going our way. Stoke's luck will run out, whether Sunderland can maintain their form is another thing and if West Brom can survive is beyond me.
All I'm saying is, I'm confident, the players are obviously confident and you need to be too! Support the lads, we will get through this and we can look forward to some stability in the summer for once if all goes well 😀
Comments appreciated 🙂
⚫️ ⚪️
---
Share Article On:
---
Filed Under: