Martins goal drought Oba but still no win in 14
Words by Kevin Doocey on .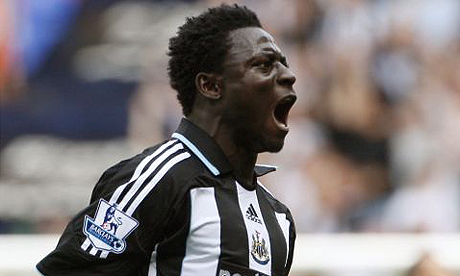 Where to start? Newcastle are in trouble, quite deep trouble indeed. Although the Daily Mail claim we're all ready relegated (How do they know these things?) there is sign of hope for us after today's game. We pushed form the start and were all over the Gunners. Finally our persistence was rewarded when Ryan Taylor was fouled by Almunia ending in a penalty. However what could go wrong, went wrong, an extremely poor penalty from Obafemi Martins easily saved by Almunia to his low left. After all this we still tried to press and Lovenkrands nearly scored. Kevin Nolan on his return also had an opportunity but Gael Clichy was there to block the shot
Second half Arsenal got more of the ball and a foul from Ryan Taylor on Clichy resulted in a free kick which a player Newcastle could've had 2 years ago, Andrei Arshavin crossed with Nicklas Bendtner heading home sweetly. You think the heads would drop but no, Martins who had missed earlier kept nagging at a ball in the Arsenal box and it eventually fell to the Nigerian again, who fired it into the right hand corner. Only 13 seconds after Arsenal took the lead we had equalised and the fans went mad, in shock. But with Steven Taylor off with injury and no replacement on, Diaby scored a great goal with Nasri (another Toon target) clinching the points a few minutes later.
It was quite controversial as there was no replacement brought on for Taylor, later it was Michael Owen but by then Arsenal had gone 3-1 up. To add to the disappointment Bassong went off injured earlier on and it didn't seem precautionary. With all this said and done we have Chelsea up next who lost to Spurs today, what a win could do then but I'm not expecting us to beat Guus Hiddink's men. Prove me and the rest of the Newcastle faithful wrong lads and lets skip free of the dangerzone soon please.
Comments appreciated 🙂
⚫️ ⚪️
---
Share Article On:
---
Filed Under: