Joey Barton could return soon
Words by Kevin Doocey on .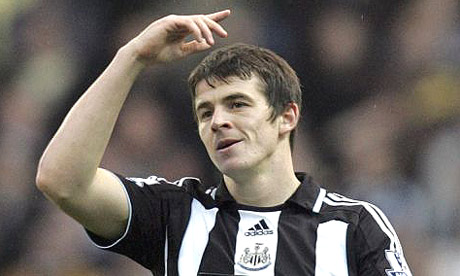 It's good to see the injuries are clearing up for Newcastle with the latest, Joey Barton expected to make a return to the Premier League very soon. It had been reported that he might even make a return v Stoke but it won't happen, no so quickly. In fairness, we have missed Barton, one man who shows a fighting spirit on the field and someone who isn't afraid to get stuck in. He got injured at City, the day we lost 2-1 and trouble signaled. Since then we've had Kevin Nolan to fill the void but he's looked less than impressive however there is more to come from him we know it. Nicky Butt has more than held his own too for his age, a lot of credit is due to him.
It's been a rocky boat trip for all involved in Newcastle but it's one we can get through and look forward to a better and more stable 09/10 Premier League season. We hope Newcastle can battle their way out of this scenario because one thing is for sure, we don't deserve to be there, especially when we have the best fans in the world. What other club in the bottom half can attract a minimum of 47,000 each week? Not many, if any, you'll find.
So with Guthrie and Barton expected back soon, that will give more bite to our midfield and hopefully more goals too, after all they are essential in staying up. Howay the lads!
Comments appreciated 🙂
⚫️ ⚪️
---
Share Article On:
---
Filed Under: