Unsure whether Carroll will start on Monday
Words by Kevin Doocey on .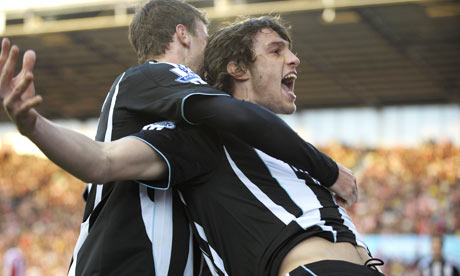 Local lad Carroll didn't have much of a chance against Tottenham and was curtailed was Michael Dawson, the question now, is whether he'll start against Portsmouth. He has no reason to be be dropped but Shearer has hinted at Owen, Martins and Viduka all starting upfront. I think Carroll should start because his ability in the air will be crucial on Monday. Martins is really the only other striker there that can leap a great height to nod one home for Newcastle. Carroll scored a beauty of a header v Stoke, one that we hope he can replicate in games to come.
Shearer is a fan of Carroll and there's no doubt that Andy himself is working his socks off in training to start for the Magpies. The question is, whether Big Al will opt for experienced heads on Monday rather than less experienced figures, eg. Carroll. We don't expect Viduka to start, making the bench for 2 games in a row would be a feat in itself. He did look lively on Sunday though and I still think he can nick a few important goals. Another man by the name of Ignacio Gonzalez is returning soon and it seems that we're keen on keeping him. He's been injured for the whole of 2009 but must be something decent when we've opted to keep him rather than sending him home. Thankfully though the injuries are clearing up 🙂
Comments appreciated 🙂
⚫️ ⚪️
---
Share Article On:
---
Filed Under: