Joey Barton sums up Newcastle's season
Words by Kevin Doocey on .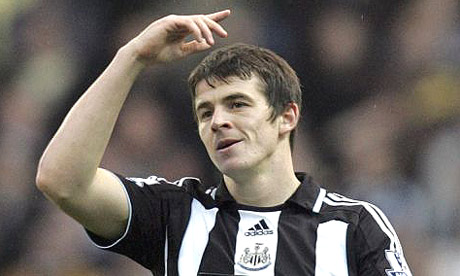 Another loss and another Joey Barton moment. Does this guy know when he has life good? After getting off the hook from an assault, getting out of prison early and getting backing from NUFC he still continues to shame the team he plays for. Not to mention we pay his £45,000 + a week wages. He had kept quiet for the whole game until he couldn't resist clattering into Xabi Alonso. Alonso who had the ball on the corner flag with his back to goal, posing no threat as such was met but an obnoxious tackle from the ever controversial Joey Barton. Throughout the first half we didn't do too badly except for some terrible marking. We started the game well and actually threatened somewhat, however typical luck goes against us and Liverpool grab an offside goal courtesy of the in form Israeli.
I won't go into major details but we were lucky to get away with just 3 goals against us. As Shearer said in post match interview, it could well come down to goal difference. I honestly don't think it will and that we might be down before that comes into consideration. Shearer couldn't help but find the humorous side of chants from the KOP shouting 'You should've stayed on telly' but it wasn't a day to laugh about. As well as scoring 3 goals they hit the woodwork 3 times too. Alonso twice and Gerrard, being denied magnificent goals. It's worth saying that Sebastien Bassong was excellent per usual and should we go down and manage to keep the young lad, that would be an achievement in itself. We lacked so much creativity today it wasn't funny.
3 games left, 3 weeks to save Newcastle United, 3 wins? I seriously doubt it. Avoiding relegation would be more than a Great Escape.
Comments appreciated 🙂
⚫️ ⚪️
---
Share Article On:
---
Filed Under: