5 players that will perform on Sunday
Words by Kevin Doocey on .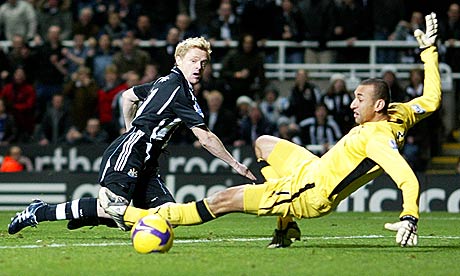 It all comes down to Sunday, when every team goes into the final games of the season, that will decide the next 2 years of their footballing careers. Tottenham Hotspurs have done really well to come from the bottom of the PL table and challenge for a European spot, however that really shows what the Premier League campaign has been like this season. Blackburn are another team that have saved their status after a managerial change. Both Spurs, Blackburn, West Ham, Sunderland and Pompey have all taken managerial changes this season and for the majority it has ended up in success. Even after
4 changes of manager this season, we're 3 last and a point behind the newly promoted Hull who face Manchester United on the last day. There are certain players that won't be able to cope with what Sunday brings and we're hoping they're on the Hull and Villa teams. I have picked out 5 players that I think will walk off the pitch knowing they've done their upmost to save/ attempt to save Newcastle United FC from relegation.
Steven Taylor
A lad born and bred in Newcastle knows the stakes couldn't be any higher. In fairness he's done his best and played a fair part too. Scoring against West Brom and Middlesbrough this season, both games which we won and two games that could be absolutely vital in keeping us up. Expect a rampant performance from this fella at Villa Par. Anytime we move forward he'll be up there too and if there's a 50/50 challenge to be made, he'll be the man to make it.
Damien Duff
Knowing he's missed a fair part of his Newcastle careers because of injuries he'll be eager to repay the faith paid by fans and the Newcastle management team. Although he's playing in a position he would've laughed at in his Chelsea days, the Irish lad is more than dedicated to his LB position and loves to get forward in the process. Whether José Enrique will be fit, is still unknown but otherwise it's Duffer at wingback. You can expect him to bomb forward at ever attempt but he'll be tracking back and hassling Villa's wingers for the majority of the game.
Obafemi Martins
After only rediscovering his scoring boots with a great goal v Boro, Martins will be a massive threat v Villa. I emphasize the word massive because if there's any hope in Villa Park for 3 points, it'll come about because of this Nigerian. Villa already know what he can do when Newcastle beat them 2-0 at St. James', Oba scoring both in that game too. We need the ball into his feat and the little man can do the rest from there. He's playing through pain of some degree so should he manage to score a few on Sunday, it'll be even sweeter. Expect the odd outrageous attempt too that will fly into row z in Villa Park!
Steve Harper
He's waited a long long time for his full time role between the sticks but he's finally got it. Albeit after Shay Given leaving to Manchester City in a sad day for NUFC but Steve deserves the chance that he's waited 16 years for. Not only that, but he's more than a decent keeper, and was in fine form v Liverpool even though we suffered a 3-0 defeat. If we happen to be 0-0 in the final minutes with Hull drawing too, expect Harper to fill the penalty area hoping to head home a dramatic winner!
Kevin Nolan
Kevin Nolan has been here with Bolton before and has the experience although he mightn't show it. Most people were shocked when he arrived from Bolton for £4m but we took him all the same. He didn't show his real ability in his first few games, especially when he was sent off after a horrible tackle on Victor Anichebe. Since then he's improved and assisted Peter Lovenkrands for an extremely important goal v Boro. We can expect thriving runs from Kevin and spending a lot of the time going forward. I'd expect this but then again it could be a different Nolan that shows up on Sunday!
So there they are! 5 players that I think can make a real difference on Sunday in the biggest game of Newcastle's history. if you have any other suggestions please do say them in the comments section. I'd expect a few to mention Peter Lovenkrands!
Comments appreciated 🙂
⚫️ ⚪️
---
Share Article On:
---
Filed Under: