Coloccini being courted by European clubs
Words by Kevin Doocey on .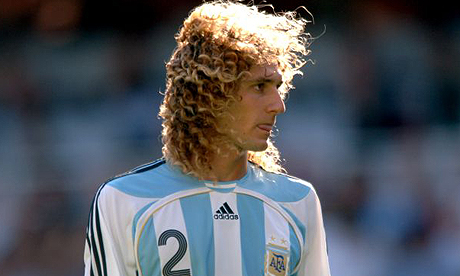 Fabricio Coloccini is being touted for a return to Spain after a number of clubs have show interest in the Argentinian centre back. Arriving from Deportivo for a staggering £10.3m, Colo never settled and his game under Kevin Keegan (yes, Kevin Keegan) against Manchester United was arguably his best one. We saw glimpses of the old Coloccini against reading on Saturday but it all has to do with confidence. If we get an offer of half the mount we paid to Fabricio I think that it may well be accepted. And thing on £7m plus would be daylight robbery. I think that Coloccini will be a very neat player when he moves like everyone else who has left us, and he may well come back to haunt us, in some fashion, the hair maybe?
The clubs that are rumoured to be interested in him as Espanyol, Atletico Madrid and Villareal. All Spanish mind you, the obviously see the opportunity for a bargain and I think that Coloccini may be one. We'll just have to see how the saga develops yet again but one thing is for sure, he won't be encouraged to stay,e specially when you're on £60,000 a week and playing for a Coca Cola Championship side. It's quite ironic that we still have huge earners and the majority will probably stay, the likes of Kevin Nolan, Joey Barton, Shola Ameobi, Xisco, and Jonas, although I'd expect Jonas will have an opportunity to leave the club in the near future. What's next in the Newcastle United soap-opera?
Comments welcome 🙂
⚫️ ⚪️
---
Share Article On:
---
Filed Under: