Fulham forward fixed on Newcastle?
Words by Kevin Doocey on .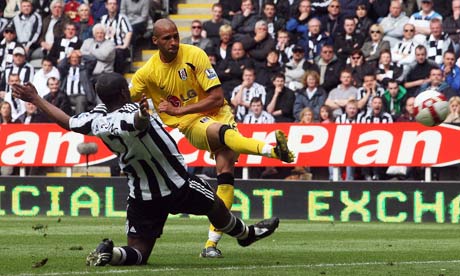 Well I suppose all of us wanted him to balloon it that day, or fall into a hole in the ground but it didn't happen. Diomansy Kamara tucked it away, past the despairing Steve Harper and beyond the Sebastien Bassong. We were in huge trouble and it meant that the Premier League relegation candidates would be decided on the last day of the EPL. We'd all like to forget that, and  look at our current position. Top of the Championship, and 16 out of a possible 18 points already under our belts, more than half of what we got in our full season the in the Premier League already.
Today, we're being linked with the Fulham striker that tore us to tatters. Diomansy Kamara. The striker, is meant to have fallen foul of Roy Hodgson, (which seems pretty hard to do) and Fulham are said to be willing to consider loan offers with view to permanent.
I think the Fulham player would be a great asset and not just because he's being linked to us. He can score goals, has pace and will pass. Also, he's a different striker type to Ameobi, Ranger, Carroll etc.
I know that he has a history of falling out with people but it seems Chris Hughton can't do anything wrong at Newcastle. He's even tamed Joey Barton who fell out with Alan Shearer, now that's an achievement. What do you think though? Would you like the Senegalese forward to wear the Black and White?
Comments welcome 🙂
⚫️ ⚪️
---
Share Article On:
---
Filed Under: