Barton ready to put bust-ups behind him
Words by Kevin Doocey on .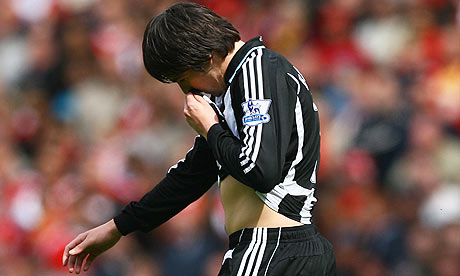 We all remember Joey Barton don't we? The guy who has played a few games for us and picks up a cool 65k a week, even when he was in prison last year. I think the name rings a bell. Well he;s injured again and taking time out he spoke to Sky Sports at length, confessing to bust-up's with Chris Hughton and Alan Shearer, Kinnear the only one he didn't have a tattle with it seems. As well as this he says he's ready to put the past behind him and get down to work, coming back from injury and bringing Newcastle United back to the Premier League.
Speaking today he said :
"This isn't a case of having a mourning process and being like, weren't we unlucky to go down because of X, Y and Z,"

"That would have been easy to do because of what was rumbling on in the boardroom. Thankfully as a group of men we got together and said we are going to do things differently."
Sounds like he has some sense after all but I emphasize seems.
And when asked about Chris Hughton's tactic in having him on the bench vs West Brom he commented :
"I will be the first to admit that I was in the wrong. I shouldn't have said what I said when I said it,"

"I'm not saying what I said wasn't right. But for me and Chris it was over in minutes. For everyone, the team, it was over in minutes and it was rectified."

"Chris made the decision, he put me on the bench (for the next game), and that was the right thing to do. I didn't question it and make a fuss out of it."

"In the past, when I was younger and a bit more hot-headed and not as mature as I am now, I could have handled it differently."
Admitting when you're wrong is always a good thing and a start but we actions from Joey, because as the old saying goes, actions speak louder than words and how true it is.
If he get back early from his injury, providing he's nursed it right, then we have some extra grit in midfield because there's no doubt, he's a talented footballer.
Comments welcome 🙂
⚫️ ⚪️
---
Share Article On:
---
Filed Under: