Hughton holds discussions with Mike & Derek
Words by Kevin Doocey on .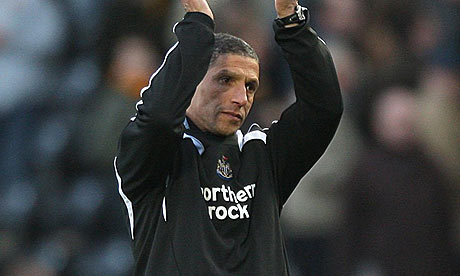 I think it's fair to say that just after relegation, we wanted anybody but Chris Hughton as manager of Newcastle United. However, Shearer didn't arrive, Kinnear's comeback rumours were slashed at the but by NUFC themselves and David O'Leary's move broke down. However now, Hughton has done a very good job and the majority of the players now want Chris as permanent manager. Lying top of the Coca Cola Chamoionship table and the players actually are playing for the shirt they wear, even the banana strip. This is what we want from now on on Tyneside.
Today Hughton said, he does stay in contact with Mike Ashley and Derek Llambias but the conversations are purely based on the first team. Speaking today he said :
"If I look at the conversations I've had, more so with Derek (Llambias), it'd be about where we are at this moment leading into January." "I've not been made aware of any interest in any of our players at all,"

"And he's a player who has been around the first team now for a couple of seasons and we feel he's got a very good future here. Any interest in our players is probably a mark of that we're doing well."

"If I look at the way that we've approached the season so far we know it's going to be a tough job to keep it going, as it will be for anyone else around the areas we are, so I certainly would like to keep everyone we've got here."
From what we understand here, is that Chris will be staying until January at least and that's not a problem really, but there isn't too much mentioned about sale of the club or where it is, which can be quiet worrying.
We're being optimistic when we say Mike is still in deep discussions with a potential buyer but if you're to believe reports, none of the interested parties have showed proof of funds. Meaning, there is a very strong possibility that Mike Ashley could well be in charge of Newcastle until May and whether he'll provide funds for new players is another matter.
Comments welcome 🙂
⚫️ ⚪️
---
Share Article On:
---
Filed Under: