Does Mike Ashley have a case?
Words by Kevin Doocey on .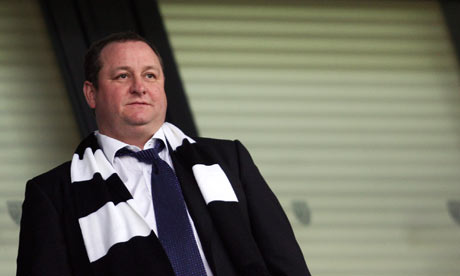 Before I start,I'd like to say I don't think Mr.Ashley has a case and today's tattle in the media is being perhaps just a little rich from his side. Speaking today Mike said that's he has lowered the asking price, to an initial fee of £80m and that Barry Moat's persistence in buying the club has been ongoing, for nearly two years. It's obvious that Mike himself is frustrated at the stage of the sale and that it hasn't been completed yet but he just doesn't realise how we feel as our beloved club is being dangled over a burning pit.
When Mike took over, hopes were high. His habit of buying pints for the locals down at the bars was a big hit then but now the locals have no time for the forlorn figure, and you can't blame them.
To add to it all, his number two, Derek Llambias,  is a liar, and as much of a selfish, arrogant Londoner as Mike himself is. I don't mean any disrespect to Londoners but Mike and his crew have taken too many wrong steps in the last 18-months.
After the court case with Kevin Keegan, Ashley's party basically accepted the fact that they've lied on so many occasions to the media and indeed the fans. It was put something like 'purposely misleading the media'. This isn't good enough, and really, when your clubs owner is doing things like this, does he even have the right to own a mange a major financial and sporting institution?
I can't help but feel that Mike is staying on but I hope I'm proved wrong, like so many other Toon fans. However, I'm sure there are some Newcastle fans out there, in favour of Mike, although without a doubt, in a minority.
But what do you think? Does Mike have a right to claim innocent?
Comments welcome 🙂
⚫️ ⚪️
---
Share Article On:
---
Filed Under: