You can't fault Chris Hughton so far
Words by Kevin Doocey on .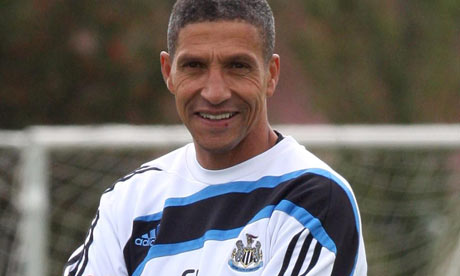 Top of the table, seven points clear and a bunch of players that want success for this club, and no, I'm not talking about BSC Young Boys in the Super League in Switzerland. Newcastle are doing well and a man by the name of Chris Hughton is doing his job very well indeed. When Hughton's name was mentioned with the permanent role as manager, a lot of people would've rather to have had Ruud Gullit back than Chris, but how that has changed. I myself wasn't keen on seeing Chris as first team manager but after pre-season and friendlies in the Summer, my opinion changed drastically.
Mainly because he was getting the best out of the players, there was a sense of safety within the camp even throughout the period in which Mike Ashley tried to sell the club.
Most importantly, he's running first team matters professionally and this is absolutely vital in any football club that wants to go places. Being top of the table is also an achievement that Chris should be proud of, not to mention the various accolades he's collected since the start of the season.
If the players and indeed the staff can keep up there good form of late then we can be satisfied for once. All in all, the players, mainly on huge wages, owe this club big time. Promotion would be the first step.
Comments welcome 🙂
⚫️ ⚪️
---
Share Article On:
---
Filed Under: