A laughable Toon rumour to end the year 2009?
Words by Kevin Doocey on .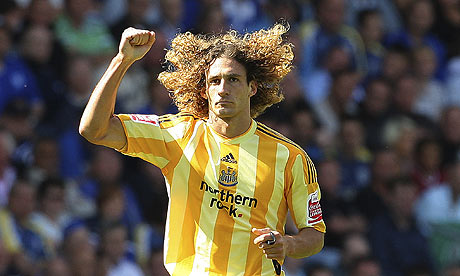 The Sunday Sun are reporting that Real Madrid could well be lining up a move for Newcastle's Fabricio Coloccini after Pepe's injury has proven to be a serious one, and will keep the Portuguese international out of action for months to come. In fairness to Coloccini, he's being doing well this season as you'd expect, especially from a £10.3m signing who played in the Champions League only a few years back. However, yesterday we saw glimpses of uncertainty in the Argentine's play but nothing too serious, as he wasn't at fault for anything major.
The news that Real Madrid who it's fair to say, aren't in the best of form this season in general, are after Coloccini is a true laughable rumour. Don't get me wrong, it could well be true, but come on , do you honestly think they'd be looking to the Coca Cola Championship for a new CB or indeed Newcastle?
The team is full of superstars, the likes of £80m Ronaldo, Kaká, Higuain, Van der Vaart, Ramos and so on and so forth. I don't think they'd be looking to add Fabricio Coloccini to their ranks, especially after his performances last season.
Saying that, his form at Deportivo obviously hasn't been forgotten and the former AC Milan man has potential. An Argentine international and when at Deportivo, one of their most reliable defenders in the last decade. So that brings us to the question, are Real Madrid really after Coloccini?
You tell me.
Comments welcome 🙂
⚫️ ⚪️
---
Share Article On:
---
Filed Under: