Chris Hughton should be looking abroad for new recruits
Words by Kevin Doocey on .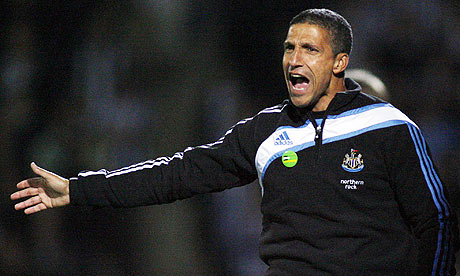 All the talk in the last few weeks has been about the likes of Matthew Kilgallon and Jermaine Beckford arriving on Tyneside. Today has been pretty quiet on the Toon front with the real focus on the snow, the other games in the Championship. We saw Cardiff City draw 1-1 at home to Ian Holloway's Blackpool & Scunthorpe put four past a Derby County side which proved an equal match for us a week ago. Anyway, whilst all the commotion about where Beckford will be on the 1st of February, I think it'd be a wise decision for Chris Hughton to look abroad for new recruits as my headline suggests.
There's no doubt England is home to many many great footballers, both present and up and coming, but the rest of Europe too offers a brilliant range of young footballing gems. The likes of Spain, Portugal, France and Russia all hold many a player that could do a very very good job for Newcastle United, or any English club for that matter.
Now I know what you're thinking, the foreign 'talent' we bought back in those days. We know the likes Albert Luque, Jean Alain Boumsong, Huge Viana etc never showed their true potential at Newcastle, however they were trying to fit into a dysfunctional side at the time.
We see in the news of late that Birmingham will be soon signing Michel from Sporting Gijon. This lad will turn out to be a very very smart signing by Alex McLeish. The 24 year old has cost about £3m but if coached right he'll be well worth the cash.
I'm always excited when we're linked to foreign talents but I can't say there's been many linked in the last few months. Beckford, Kilgallon, Cort, all English. There's no problem with that, but considering our teams lacks a big amount of creativity, it'd be wise to add a player with some flair to our ranks.
On what's been a snowy, pretty monotonous Saturday hopefully the new week ahead of us will bring some encouraging, bright news.
Comments welcome 🙂
⚫️ ⚪️
---
Share Article On:
---
Filed Under: