Michael Chopra won't return to St.James' Park
Words by Kevin Doocey on .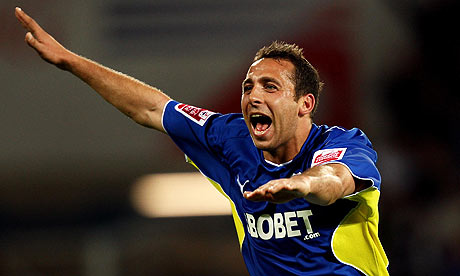 Most of news today has been dominated by Michael Chopra and a possible move back to Newcastle. Whilst everything's been pretty quiet overall the Sunday Sun always tend to cook something up that makes for interesting reading. I think we all remember the day in the Stadium Of Light when after starting the 2nd half one nil down due to a Justin Hoyte goal, Newcastle fought back and romped to a 4-1 hammering. Included in the scoring was Michael Chopra, only literally seconds after running onto the field. It was the perfect goal for a man who had waited a long time for any chance in the first team.
After moving to Cardiff and ripping up the Championship, Chopra ironically moved to Sunderland on a £5m deal, scoring another memorable winner on the first day of the season at home to Tottenham Hotspurs.
However, he was later shipped back to Cardiff and now he's reportedly looking for a new club. With Cardiff's financial problems it's understood that the Bluebirds could well accept a bid below his valuation just to lower their outstanding tax bill.
To be honest, I can't see him returning to Newcastle at all this January and somehow I don't think Chris Hughton is in the hunt for him either. I certainly hope not anyway. I mean, he's a good finisher but we need to look elsewhere.
Rumours are also suggesting that Marlon Harewood has been offered back to Newcastle on loan with rearranged terms. What the details are, or if even true I really don't know.
The only one that knows what's going regards transfers at Newcastle is Chris Hughton, or we certainly hope he does.
Comments welcome 🙂
⚫️ ⚪️
---
Share Article On:
---
Filed Under: