Leeds won't accept anything less than £2m for Jermaine Beckford
Words by Kevin Doocey on .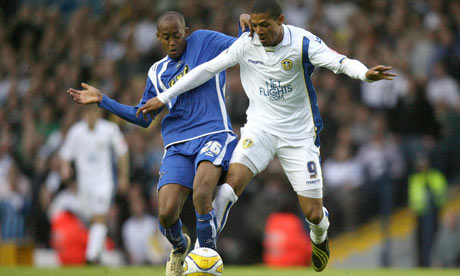 The speculation goes on. Just as it seemed Jermaine Beckford was joining Newcastle United this January, the tale has taken another twist. It's now reported that Sunderland and Wolves have both joined the race to sign the FA Cup hero as Leeds United stall over Newcastle's latest bid. Sources suggested that Newcastle's latest bid was indeed rejected but no one knows for sure. Apparently The Elland Road outfit are holding out for £2m for Beckford but most of the teams know that his contract expires in only a few months time.
There's no doubt we need to strengthen this January and a striker is probably necessary. Harewood has been offered back to Newcastle on a permanent basis if reports are to believed and this is to prise our attentions away from Jermaine Beckford, or so they say.
Simon Grayson said :
'As a footballer, you can only leave when your contract expires or you are given permission to go.

'We've said all along that while he's under contract, we'll dictate when he leaves the football club. That's why you sign contracts.

'Putting in a transfer request doesn't guarantee he'll get a move. Until someone meets our valuation, he'll stay here.'
You can't help but get the feeling Beckford is a troublemaker and could disrupt the harmony at Newcastle at the minute. As well as this we aren't really sure if he would cut it in the Championship. What happens when/if we get promoted? Will Beckford remain on the books at the Toon? I'm not so sure.
It's also understood that Mike Ashley won't shell out £2m for the striker who can be snapped up on a free, in a few months time. However, that's not a footballing brain thinking, he's just keen on keeping his pennies close to his purse.
Perhaps we can do better than Beckford, Giles Barnes although not a striker is a free transfer at this minute. Remember, it wasn't long ago we nearly shelled out £5m for the Derby County winger. He's certainly worth a shot, being a free-agent and only 21 years of age.
Developments are expected to come within the next few days over our potential targets, we'll just have to sit tight and hope for the best.
Comments welcome 🙂
⚫️ ⚪️
---
Share Article On:
---
Filed Under: