West Brom probably deserved all 3 points at Newcastle last night
Words by Kevin Doocey on .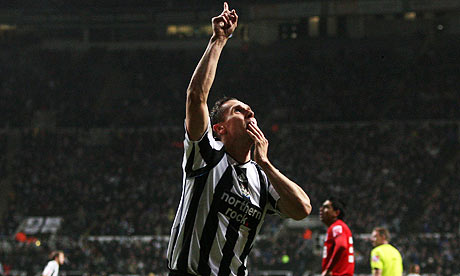 How suiting it was that Peter Lovenkrands had the last say in St.James' Park last night in what was a very exciting affair. Tyne Time predicted a 2-0 scoreline in Newcastle's favour and we were wrong, however I did guarantee an even encounter, one which if you ask me, we didn't deserve to win. The opening minutes saw West Brom throw the kitchen sink at Newcastle and they got their due reward when Olsson delicately flicked Dorran's ball beyond the despairing Steve Harper. They continued to press but a foolish foul by Mulumbu just outside the box resulted in Danny Guthrie smashing the back of the net with a beaut of a free-kick albeit a dodgy wall.
You couldn't help but be impressed by West Bromich Albion last night and by Graham Dorran's & Jerome Thomas in particular. Anything attack on Newcastle was led by either of the two.
Credit to Steve Harper so some great saves and unfortunately his save from Roman Bednar came off the crossbar and fell for the striker again to nod in. His first goal in quite a while, just over 30 secs into the second half too.
All in all, we were lucky to get a point from that game, I know you can argue that we deserved a couple of penalties and no more than Andy Carroll being pushed in the box in the dying minutes.
However, how Ismael Miller didn't score with a few minutes remaining I'll never know and will surely see his effort go down in one of the worst misses this season. Great play again from the winger laid it on a plate to Miller but he tapped it off the post and the follow-up was bravely denied by Alan Smith.
After the match, di Matteo said :
'We deserved to win the game,'
'We had some big chances and better chances than Newcastle as well. I was happy with the response we had to the Nottingham Forest result and we have to remember there have been more positives than negatives this season.

'Everything about Newcastle says Premier League and I think they have the edge over everybody else, but they have come very close to losing their unbeaten home record to us. We were the better side and that's twice we should have beaten them this season and drawn.'
He's telling the truth there. West Brom really showed the cracks in our defence and throughout the team last night and more than anything, the need for new faces on the pitch. Whether we're in for another hapless January transfer window, only time will tell.
Comments welcome 🙂
⚫️ ⚪️
---
Share Article On:
---
Filed Under: