Derby continue to haunt Newcastle as Toon take a hefty tumble
Words by Kevin Doocey on .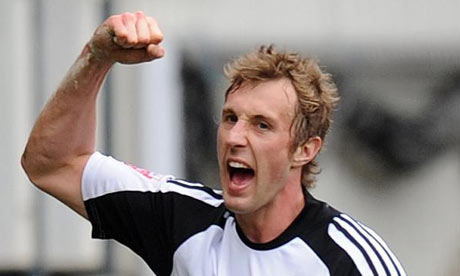 This could be a very costly loss for Newcastle United. However, it could very well turn out to be a beneficial lesson for Chris Hughton's men although you might be led to believe otherwise. Rob Hulse, Kris Commons and one of their CB's all scored and put Newcastle United to bed at Pride Park tonight. What frustrates us all is the fact we beat our promotion rivals 5-1 less than a week ago and we go to a mediocre Championship side and end up going out without a whimper. We didn't play awful tonight if reports are to believed but Derby being Derby, they always happen come up trumps against our lads.
With West Bromich Albion winning against Scunthorpe tonight it means they go top of the Coca Cola Championship table on goal difference and although we have a game in hand on Roberto di Matteo's men, the gap is being closed all the time.
The good news is, Coventry City managed to beat Billy Davies men which will give us some relief and as I said in my previous article, our rivals will mess up up in some games. Unfortunately, it was us moreso who threw it out the window tonight.
I knew it'd be a tough test tonight but to go down three to nothing is never a nice sight, just like seeing our 15 game unbeaten run coming to and end. Against Derby County this season, we've only managed 1 point from a possible 6. Derby got a point against us at the end of last year and now have got what could be a precious 3 points for Nigel Clough.
If it makes you feel any better, Derby also beat Nottingham Forest 2 weeks back. 😀
The anti-Hughton messages will begin to pour in again but our defeat tonight aside, we've tougher ties awaiting us. None less than our little matter that happens to be against promotion hopefuls in the shape of Swansea City.
There we have it, a 3-0 loss. Three conceded and none scored. Never a good sign, however, I'm confident we'll pick up form again soon, or to put it this way, we better do.
Comments welcome 🙂
⚫️ ⚪️
---
Share Article On:
---
Filed Under: