Peter Lovenkrands has done a great job on Tyneside since his permanent move to Newcastle
Words by Kevin Doocey on .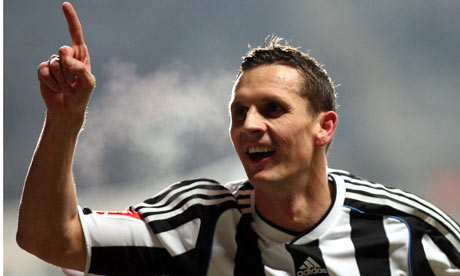 When Newcastle United in January 2009 confirmed that Peter Lovenkrands would indeed be staying until the end of the season under Joe Kinnear, there were a lot of unhappy Ton fans out there. In a dismal January transfer window which in a way sent us down from the Premier League, Lovenkrands was 1 of a mere 3 faces that arrived on a relegation threatened club at the time . He tried his best at Newcastle and score some important goals, like his goal away at West Brom and indeed sealing all 3 points in St.James' Park in Alan Shearer's first and only win if my memory serves me correctly.
Chris Hughton took over fully a few months later and Peter Lovenkrands was on his list. The Dane signed in the summer, alongside Danny Simpson on loan from Manchester United.
At this stage of the season, Peter Lovenkrands has netted 12 times for Newcastle and twelve goals in any league is a decent tally, especially for someone who has had to deal with the sad loss of his father only weeks ago.
These goals have been of good quality too and a large majority with his head, which alone is a feat for a striker who doesn't have a huge stature to boast about. He grabbed a hattrick against Plymouth Argyle and nearly too against Barnsley on Saturday, he even said he was a little disappointed to miss out on the opportunity to bad his second hattrick of the season.
Either way, you have to be pleased with McLoven and his performances of late. Perhaps he's looking towards the #9 shirt? What would you make of that?
Comments welcome 🙂
⚫️ ⚪️
---
Share Article On:
---
Filed Under: