Joey Barton couldn't be returning to the Newcastle team at a better time
Words by Kevin Doocey on .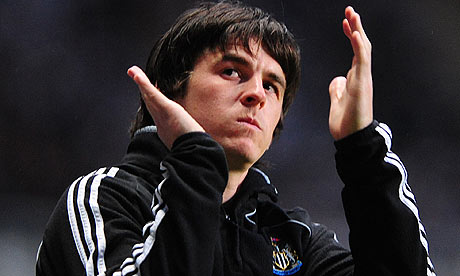 Ok, maybe it could be better. Perhaps lying in the top half of the Premier League table would be a better scenario but our current one isn't far off. There's major relief and indeed contentment around Tyneside as it seems we're on our way back up to the Premier League following relegation from it last year. Don't get me wrong, there's still 10 games or so left, but surely we can't throw away a 12 point lead from the automatic promotion spots away? It just won't happen this time!
Speaking about Joey Barton's return, Hughton today said:
"I think he will play soon, but Joey's only had 75 minutes of a reserve game." "We have a lot of competition for places at the moment."
Hughton is adamant that the players that are performing will earn their starting place in the team and no player, no matter what wage-packet he's on deserves a starting spot because of it. That's what he really meant to say anyway.
With Danny Guthrie and Kevin Nolan performing so well together in midfield we shouldn't dare break the good form they're in. Barton will indeed get a run out very soon I know but there's no guarantee that he'll warrant a starting spot right away. Far from it.
Saying that, he really couldn't be returning at a better time. We look set for an immediate return to the Premier League and whatever playing time Joey will get will be good for the fitness ahead of what will be a vigorous Premier League campaign.
We all know that Joey Barton is a fine player but he will never justify his price tag, wages or indeed the awful media attention he's brought to Newcastle United FC. It seems as if he's quietening down now though and might have got some sense. Time will tell, but it'll be encouraging to see him doing his talking on the pitch.
Comments welcome 🙂
⚫️ ⚪️
---
Share Article On:
---
Filed Under: