Newcastle United can wrap up the first part of the title on Monday
Words by Kevin Doocey on .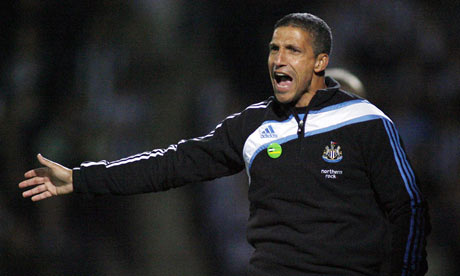 West Bromwich Albion seem to love scoring in the last 15 5 minutes of their games as we've seen them ditch their 1 point for a more desirable 3 in the dying minutes of many a game this season. Graham Dorrans has been in flying form this season and will no doubt have caught the eye of a couple of Premier League teams in the process of keeping West Brom's automatic promotion hopes alive. If you ask an experienced Toon fan and 'blogger like me, the title is all but Newcastle United's. 😀
It's been a long time since Newcastle United lifted a trophy and we can't really class the Coca Cola Championship (should we win it outright), as a major piece of silverware. Instant promotion was mandatory for some of Newcastle's higher earners.
Some will say that I'm being a tad arrogant saying that we've one hand on the trophy but I usually don't say things like this unless the signs strongly suggest it. There's no chance we're not getting promoted this season.
Chris Hughton deserves a lot of credit for getting this side into shape and the only real blip we've had came in the last week, with Andy Carroll breaking Steven Taylor's jaw in a little scuffle at training. Carroll then scored at the Keepmoat Stadium to ensure we stay top.
Tyne Time on Tour in Tyneside will be landing down in Newcastle early tomorrow and on Monday, will hope to see our grip strengthened on the Coca Cola Championship title. If we lose, we need 3 more wins, if we win it's as good as ours. We won't even consider the draw eh?
Comments welcome 🙂
⚫️ ⚪️
---
Share Article On:
---
Filed Under: