3 players Newcastle United should be looking at right now
Words by Kevin Doocey on .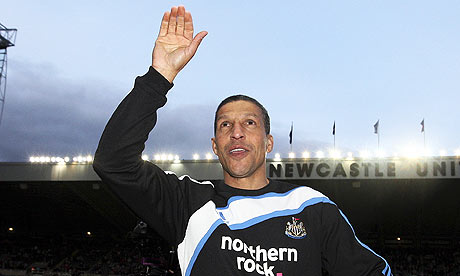 The vibes coming from the hierarchy of Newcastle United are very encouraging ones indeed of late, and Mike Ashley is seemingly doing the impossible, in becoming a slightly better owner. For now anyway. A season in the Coca Cola Championship has given us time to think about things on Tyneside and the goings on at the club while at the same time, perched on top of the table, ready for regaining our Premier League status. With our spot in the top flight already sorted, it's really time to be looking at new players to bring in because we without a shadow of a doubt, need to strengthen our squad for the upcoming Premier League campaign.
Tyne Time, on the button as usual has compiled a quick list of 3 players that we think would fit the bill at Newcastle as we look to make the most of our upcoming Premier League season.
Jamie O'Hara
If you visit Tyne Time regularly then you've probably seen this lad's name mentioned a few times. Jamie O'Hara, currently at Portsmouth on loan from Harry Redknapp's Spurs. With O'Hara, Pompey would be worse off for sure, the Englishman has won games for the Fratton Park side this season, although very little at that. With Tottenham boasting the likes of Wilson Palacios, Luka Modric, Niko Kranjcar, David Bentley and even former Toon midfielder Jermaine Jenas - I really do wonder where O'Hara fits in here. As much as Harry preaches about him having a future at White Hart Lane, I think he'll be off to a new club if anywhere near £5m comes in for him. With Chris Hughton having already worked with him at Spurs then surely there's a good relationship between the two? I think there would be, and I'd certainly love to see the CM strut his stuff at St.James' Park next season, along with so many other Magpies fans.
Roque Santa Cruz
Roque Santa Cruz arrived at Manchester City with a very big price tag and if memory serves correctly, hasn't played as many games as the number of millions he cost from Blackburn Rovers. With Craig Bellamy, Emanuel Adebayor and Carlos Tevez shaping up very well I fail to see where Cruz fits in. Unless Mancini plays 4 upfront with 2 in midfield or at back, than maybe he'll get games but a subs appearance would be the best 'Santa' could hope for at City as of now. As well as this, Cruz was a Mark Hughes signing and as you know, he's long gone, with him, the enthusiasm of many of his signings including Mr.Cruz. We need a proven goal-scorer and given the chance, I'm sure Cruz, 28, could bang a few in at the Gallowgate End. With Manchester City in no real need of money I think an offer in the region of £5-8m should prize the Paraguayan away. A very long-shot indeed but worth bringing. Do you think Santa Cruz would ply his trade at St.James' Park?
David Bentley
David Bentley was another former Blackburn player under Mark Hughes but since his move to White Hart Lane, we haven't see anything like what was promised on his arrival for £17m, like we've seen at Spurs on many occasions. An English international and a masterful footballer if in the right frame of mind. Yet again I'll refer to Spurs large 'reservoir' of good midfielders and although Bentley has got more playing time than others, I can't help but think no-one would stand in his way if he wanted to join another club. I'd be delighted if that club was Newcastle United because he's a real skillful midfielder as we've see many a time. He did cost £17m though and Spurs, if they agree to sell, will look to recoup a large chunk of that, certainly into double figures. Another long-shot indeed but these are the players I'm sure Hughton is keeping an eye on. An offer in the region of £9-12m should get Daniel Levy thinking.
And I haven't even come to defenders yet..
Above, are 3 players I'd really like to see at Newcastle United this summer and in time for the new Premier League season. These are my choices, you might not agree and indeed you might. That's what the comment box is for, get your suggestions in.
It's funny to see that in January, I wrote about possibly bringing in Peter Whittingham , Nicky Maynard or indeed Bill Sharp to see out our promotion push. Well, we are a Premier League team again and with it, brings better funds, and a better reputation, not that we never had it at Newcastle 😀
Perhaps some of the players are still out of our range, I don't know. If only loan spells, I would like to think they'd consider Newcastle United, especially if they'd be sitting on the bench at their parent club!
Comments welcome as always 🙂
⚫️ ⚪️
---
Share Article On:
---
Filed Under: