The real job on Tyneside starts now for Hughton and the lads
Words by Kevin Doocey on .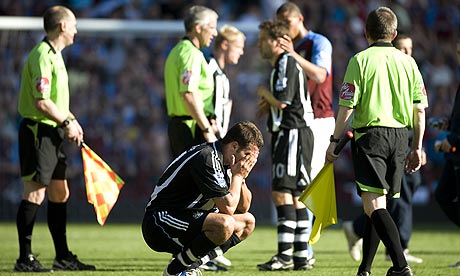 2009 - That horrible day when a Damien Duff OG sent Newcastle United down
I don't think many Newcastle United fans will forget the day we were relegated from the Premier League, a fine day it was too, weather-wise. Pity it was the day Newcastle United waved goodbye to the Premier League for the first time in 16 years but a year later, we're back up again, up with the big-boys so to speak. A season long effort by Chris Hughton and the players, saw us return to the Premier League with 5 games to spare, a memorable achievement for the Irishman as manager and indeed the dejected players. They made it their mission to get Newcastle United back to the Premier League after an embarrassing campaign the year before.
That said, it's all good and well getting up to the Premier League but we needed it and indeed the players needed to repay us for the relegation, especially considering the huge amount of money they were are sucking from the club. I'm not being pessimistic, but realistic. We've a long season ahead of us in the Premier League and I'd be very surprised if we finish mid-table as some pundits are predicting.
The good news is, Mike Ashley is going to back Chris Hughton once again the transfer market or so it's being reported and indeed he's meant to be handed a budget of £25m or thereabouts to bolster his squad with. A predominant striker proven at Premier League level is on top of the list, if rumours are accurate anyway.
There are sure to be players leaving Newcastle in the summer and it'll be interesting to see who will actually leave St.James' Park. I can't help but think Alan Smith and maybe Fabricio Coloccini could make way to reduce the way bill, and even though we'll be getting increased revenue for being in the Premier League, our wage-bill is still too high. Better than before, but still too high.
It's a bonus if we win the league and it's looking rather likely, as well as keeping our unbeaten home-record going however the real job starts now, recruiting new players and getting the plans ready for the Premier League campaign. Saying that, we needn't worry, Chris Hughton is already working on this I'm sure. 😀
Let's enjoy the success of getting an immediate return to the Premier League and why not put a cheeky bid in for Lionel Messi? 😀
Comments welcome 🙂
⚫️ ⚪️
---
Share Article On:
---
Filed Under: