If Newcastle avoid relegation it will be a very successful season in the Premier League
Words by Kevin Doocey on .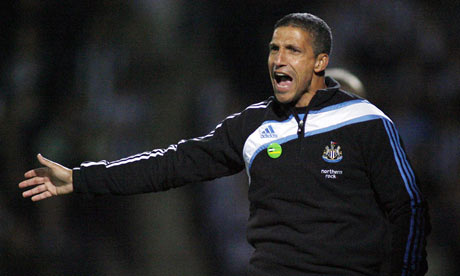 In the last few days, since Newcastle United were officially announced as a Premier League team, the question is being thrown about already, as to where the Magpies will finish come May 2011. A few pundits I've seen already are confident they'll see Newcastle lie in and around the 12-15th spot, but I can't help but think that's very far fetched. Saying that, who thought Alex McLeish's Birmingham City would be where they are at the start of the season? They're lying very comfortable indeed and are an extremely hard team to beat, as we'll see next season.
If Newcastle can avoid relegation then I'll be delighted as that is the aim for their season. Let's not be thinking about mid-table spot's or even possibly the final spot for the Europa League. This simply won't happen.
Chris Hughton today has warned the fans not to get too excited about their upcoming Premier League campaign as it'll see a fighting Newcastle United try and get points from every game, in anyway possible. As long as we don't play Stoke style football then I'm a happy man.
There's no doubt we need to buy and need a proven centre-forward, which are quite hard to come by these days. A lot of people are looking for Robbie Keane to arrive but I wouldn't be a big fan of the Irish international. He's a great finisher agreed, but only when he has some excellent players behind him. The likes of Luka Modric, Niko Kranjcar, Aaron Lennon and so on. Now, he could well bang the goals in for Newcastle if he happened to arrive but I very much doubt he'll be making his way to St.James' Park any time soon.
Now that we're back in the Premier League let's not get carried away as a certain percentage of Newcastle United fans will. A very small percentage at that. We must fight to survive.
We're in the best league in the world now, and if we buy wisely, and indeed off-load wisely, then we have every chance to survive. That is the aim, to be a Premier League team for the 2011/12 season, after we win the Coca Cola Championship that is 😀
Comments welcome 🙂
⚫️ ⚪️
---
Share Article On:
---
Filed Under: