Could Shola Ameobi be in line for the coveted #9 shirt?
Words by Kevin Doocey on .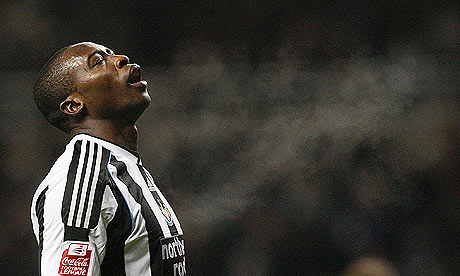 Born in Nigeria but an English international at a young age, Shola Ameobi has been at Newcastle United for quite some time now. He was there for Shearer's later glory days at the start of the new millennium and now he himself, has been playing pretty well in a Newcastle shirt of late. A lot of people regard Ameobi as a clumsy, lanky striker and some people have attributed the nick name 'Stumbling Bambi' to the Toon striker as well. This a little harsh really considering Ameobi has pretty much scored any time he's played for Newcastle United this season.
Let's not forget his two goals at home to Sunderland under Graeme Souness when Newcastle went on to win in an enthralling game either, 3-2, thanks to Ameobi's two goals and indeed an excellent free-kick from Emre. Mind you, he also scored in our less fortunate result away to Sunderland last season so you can't fault the big mans' effort.
Shola missed a lot of games for Newcastle this season due to injury but on both returns, he scored. He first game back against Coventry he scored in an important two nil away win to Chris Coleman's side and indeed in a more crucial tie at home to Forest, he produced the goods and swept home a lovely left footed strike with less than 20 minutes remaining, later followed by an assist which saw Jose Enrique belt one home.
The number 9 shirt is still left vacant since Obafemi Martins' departure from the club and rumours are suggesting that Ameobi is closest to it, especially after Andy Carroll's recent melee with Steven Taylor.
The question whether he will score goals in the Premier League still remains but I'm confident he'll grab a few, just like he did last season, in what was a terrible campaign.
Ameobi could be in line for the #9 shirt, what do ye lot reckon?
Comments welcome 🙂
⚫️ ⚪️
---
Share Article On:
---
Filed Under: