Jonas enjoying time at Newcastle as Jamie O'Hara isn't a Toon target?
Words by Kevin Doocey on .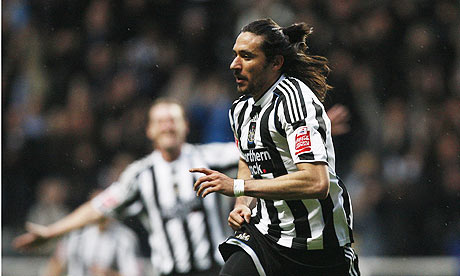 ### Jonas - Doing well on Tyneside this season and has scored a few goals
Jonas Gutierrez will represent Argentina at the World Cup in South Africa in June, which is a major honour for the winger that has played this season in the Coca Cola Championship. The former Mallorca man who arrived on Tyneside in rather controversial circumstances didn't really set the world alight in his first season the Premier League but then again, how many Newcastle United players last season really did impress you besides Sebastien Bassong?
Jonas has been good this season and has chipped in with a few goals too including a fairly nice one against Barnsley if memory serves me correctly. He was touted to leave in the summer in search of European football but he was told to stay at Newcastle by the one and only Maradona.
On the other hand, Jamie O'Hara, Tottenham's midfielder on-loan at Portsmouth has been linked with Newcastle United again, however this time Hughton says he knows nothing of the supposed Toon interest in him.
Speaking today he said :
'I know Jamie O'Hara well, but I can only think the link is because of my time at Spurs.

'He has had a very good season. He wants to play and he needs to play and that is why he went to Portsmouth and has done well.

'But there has not been anything from us on him.'
We'd like to think we are still interested and the Spurs player arrives at Newcastle United this summer but we don't know, and have to doubt it too.
I'd like to apologize for the lack of articles on this site of late too, I simply haven't enough time to keep everything in order with important exams coming up and therefore will more than likely, not churn out my daily articles. Ed Harrison will have plenty for you to read in the meantime though. 😀
Comments welcome 🙂
⚫️ ⚪️
---
Share Article On:
---
Filed Under: