Newcastle's Five Year Plans could find Chris Hughton's men in trouble
Words by Kevin Doocey on .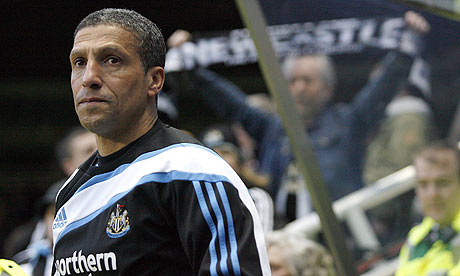 Hughton - Really does need a couple of signings this summer to get things right
I suppose when you see the demise of Portsmouth Football Club and indeed the serous financial state of many well known clubs across the land, you know it wouldn't be long before Newcastle United would be hit with some sort of financial implication. Indeed here it is. A statement released by the club yesterday outlined the boards' plans for the coming few years, which 1.Indicates that Mike Ashley will more than likely stay on as owner and 2. Chris Hughton will have less than two-pence to spend in the Summer transfer market.
The statement released yesterday holds both positives and negatives for Newcastle United Football Club but mainly gets across the cold truth that this club has some debt and an undesirable one at that. The loss last year amounted to over £30m, better than the previous year but the club wants to break even by the 2015/16 season when hopefully we'll still be a Premier League club.
The main aspect of the statement is that the board doesn't plan any new signings this summer and that the current squad will form the basis of the Premier League survival hopefuls.
There will be no 'capital outlay' for new players and Chris Hughton will be the man to lead the guys into the Premier League and hopefully, keep them in it.
I must say, I think we need strengthening and big time. The likes of of Kevin Nolan, Danny Simpson and Wayne Routledge all looked good in the Championship and I don't take away from that, but the Premier League is a totally different kettle of fish. We need new players but it doesn't seem very likely, unless we sell, loan or indeed get some freebies.
The Guardian are reporting that we're already looking at jack Wilshere, Tom Cleverly and Danny Welbeck which would be three excellent loan signings if we could get them.
The real question lingers though, is Mike Ashley going down the wrong road again and in line for another disastrous year for Newcastle United financially and indeed on the field?
Time will tell I guess.
Comments welcome 🙂
⚫️ ⚪️
---
Share Article On:
---
Filed Under: