Newcastle United should act quick and sign Martin Petrov
Words by Kevin Doocey on .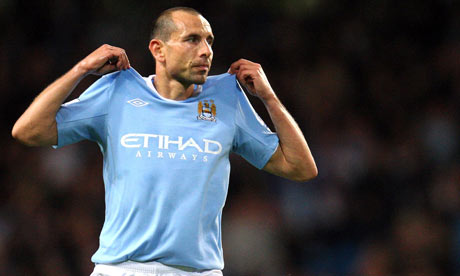 I don't think I'm the only person who thinks that Newcastle United should move as quick as they can and snap up Manchester City former Martin Petrov. The Bulgarian was released from the club after a good three years at the club. The winger is a talented player and alongside Sylvinho, Mancini waved goodbye to his services at the club, simply because they are not good enough for what is becoming a monstrous squad, and that's not mentioning the wage bill! As Ed Harrison reported on NUFCBlog.com - 500 players are without contracts this summer and there are some very decent, and experienced players in that growing list.
When I heard Petrov was released I was slightly surprised because he's been a very good servant to the Manchester club. The former Atletico Madrid winger has Champions League experience and is an international  for quite a promising Bulgaria side.
it's been well reported that we're not getting a truck load of money to spend this summer if any at all and I believe that Petrov is certainly worth a shot. Sure he has had his share or injuries but I don't think he'd look for a huge wage in all honesty. Pay Per Play contract would be preferable but I don't know whether both parties could agree to that.
Joe Ledley, Sidney Gouvou and even William Galas are all free this summer and indeed that list will grow even further over the coming weeks. I know that we've a youth policy in place where we won't sign anyone under a certain age but I really do think Martin Petrov would be a good acquisition, alongside Kris Boyd and Ledley. However, Ledley will have a few offers to consider from established Premier League clubs too.
We do need signings and I think we can wave goodbye to the likes of Jamie O'Hara and Robbie Keane.
Chris Hughton should really consider moving for Martin this summer, and no, not Martin Fulop 😀
Comments welcome
⚫️ ⚪️
---
Share Article On:
---
Filed Under: