Dan Gosling on a free – Something Dennis Wise wouldn't have managed
Words by Kevin Doocey on .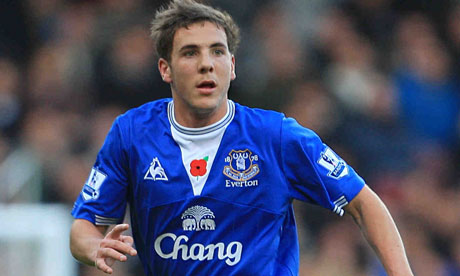 The dislike of Dennis Wise for many Newcastle United fans stems from Kevin Keegan's departure, James Milner's move to Aston Villa, the signing of the Uruguayan Gonzalez, Xisco's arrival on Tyneside and many other incidents at the club. He did spot Bassong and a few other promising young players but will never be warmly welcomed back to St.James' Park if he arrives some time in the future. we passed down the chance to sign Bastian 
Schweinsteiger who reportedly was keen for a switch to Newcastle United, Wise again having something to do with this.
Yesterday we finally completed the signing of promising youngster Dan Gosling from Everton on a free transfer. Smart thinking from Chris helped us go in early on the midfielder and we managed, to sign him up, following a debacle with Everton over his contract at Goodison Park.
These were the type of opportunities we passed on when Dennis Wise held the role as Executive Director of Football at Newcastle during those dark days. Now however, Mike has seemed to have learned a lesson and kept to himself throughout the course of last season and this year so far. He couldn't sell the club and inevitably chanced his arm by hoping on promotion last year.
We pretty much ghosted through the Coca Cola Championship and met Hull City on the way up, the club who in May 24th 2009, relied on us losing at Villa Park to stay up - funny how things iron out. Hull City will now play in the nPower Championship, so we're pretty glad to get out of that division and let the Tigers battle their way through that desperately named Division 1.
Although we'll be waiting a while for Gosling to play, we're willing to wait and speak today, he said he's very excited about the pospect of playing for the Toon, but won't rush his return. He said :
"It would be stupid to rush back."

"It has been a while now, but I just have to work hard and get back that way."

"I'm delighted to be here – I feel I've moved to a massive club."
When he does come back, we'd love to see him in the Tyne-Wear derby and hopefully score a stunning goal like he did for Everton in the FA Cup 4th Round a couple of years ago. 😀
Either way we're happy with his signing and if Dennis Wise was still Executive Director at St.James' Park, would we have Dan Gosling as our #15? - I'll let you decide.
Comments welcome 🙂
⚫️ ⚪️
---
Share Article On:
---
Filed Under: