Joey Barton v Wolves – A sign of a changing player
Words by Kevin Doocey on .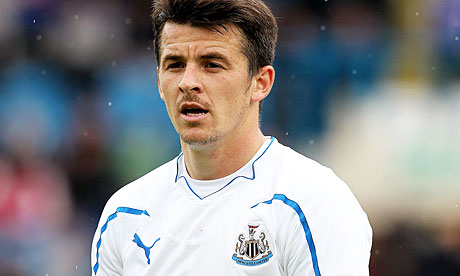 I would like to highlight the word 'changing' in this article. We won't forget the dark dark days that Joey Barton has put Newcastle United Football Club through since his £5.8m move from Manchester City and we won't forget that he hasn't half as much as he should have. Saying that, there's strong evidence to suggest that he's maturing as a footballer and as an individual. It's also obvious that Wolverhampton Wanderers targeted Barton today, and hoped that he would retaliate - ending up in a sending off and inevitably, a Wolves victory.
That didn't happen though and to be perfectly honest, Newcastle United deserved all three points today. Various chances, Nolan in particular who seems to enjoy his role as third striker had a couple decent chances but failed to hit the back of the net. Saying that, we were very fortunate to have not given away a penalty, with James Perch clearly bringing down Matt Jarvis in the box.
Back to Barton though - Alan Shearer counted a total of seven tough tackles on him in the match, many of which came from Karl Henry, some fairer than others. The best thing about it all was the fact Barton kept his head in all those tackles and just keep plugging away at his job in centre mid.
It was quite ironic that Barton was the source of Newcastle United's goal, and Andy Carroll's fourth of the season. A delightful ball, met by a truly brilliant header to bring us back into the game. In fact, you have to admit, Carroll was excellent today in the air at the very least. He was even carrying a slight knock too.
As for his replacement Shola Ameobi, he had an effort quite literally about 20 seconds after he came on the pitch scrambled off this line, what an entrance that would have been - reminiscent of Michael Chopra v Sunderland those many years ago.
Overall, a draw was probably a fair result but we could've snatched a victory there on another day. However, with that said, a point away from home is a good result and they all add up. 4 points from a possible 9 is a good start considering we've had two away games in that - including our debut away to the potential champions of this league, Manchester United.
As for Barton, you can't be anything but pleased by both his performances and the way he has conducted himself so far this season. Remember though, there's 38 games in a season, and we've only played three so far. Tougher tasks lie ahead, and no doubt for Barton, he'll meet more midfielders that will go out to make life a constant struggle for him.
There's strong reports that Robbie Keane will be the next face through the door at St.James' and if we did indeed get the Irishman, we'll have had an excellent transfer period. Developments on this, and many more rumours are sure to come this week as this transfer window soon slams firmly shut.
Tyne Time will be Tweetin' regularly in the next few days regards any rumours about potential Newcastle United signings so be sure to 'Follow' us on Twitter, right here: @TyneTime
Comments welcome 🙂
⚫️ ⚪️
---
Share Article On:
---
Filed Under: