Nigel de Jong's inability to tackle has left Newcastle United without much needed flair
Words by Kevin Doocey on .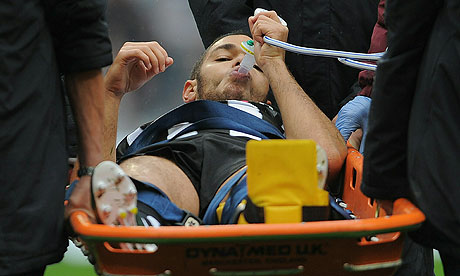 Ben Arfa - Brave fella who wants to play in a Black and White jersey again
Three minutes in, Newcastle United with possession and looking threatening. The ball is on our right wing, and Ben Arfa picks it up. He dribbles inward showing a tad of pace before Nigel de Jong slides in to dispossess him. All seems fine, but the Frenchman is on the floor, and not looking very well at all.  Five minutes later he leaves on a stretcher carried by three Manchester City medical staff and a Newcastle United representative to their credit. The crowd clap him off the pitch as he departs after only three minutes of action, with an oxygen mask attached. he salutes the fans, acknowledging their appreciation and sympathy for what seems a very serious injury.
We end up losing the game 2-1, in a game we should have never really lost to be perfectly honest. We gave away a debatable penalty, and were denied a stonewall one in the final minutes of the second half. Did I also mention that ref Martin Atkinson didn't book de Jong for his challenge that broke Hatem Ben Arfa's leg in two places and in fact didn't even give a foul?
Well the story now is that we're without Ben Arfa for a solid 6 months thanks to a needless challenge from Nigel de Jong who simply cannot tackle. His challenge on Staurt Holden in a friendly against the US that also broken the American's leg springs to mind, never mind the tackle the whole world saw - his lung into Xabi Alonso's chest during the World Cup Final.
Of course he'll always defend himself by claiming he got the ball and that it was a perfectly legitimate challenge. Indeed he did get the ball, but in the most reckless and careless fashion. He could've simply stoel the ball off Ben Arfa without even grounding the Frenchman, but no, he had to be the hard man and crunch his opposition as well.
It' not just me and the Newcastle United fans who are angered and outraged at this challenge. Dutch boss Bert van Marwijk also showed his disgust at the tackle by dumping de Jong out of the Netherlands squad or their upcoming Euro 2012 Qualifiers. Credit to the manager for this, as he clearly realised that de Jong had been doing this all his career, and will indeed continue to do so unless there's drastic changes.
NUFC have written to the FA over this tackle and are looking for a ban for the Dutchman. If we can get de Jong banned, it would signal to the footballing world, what tackles you will and will not get away with, even if the referee sees it, and decides against giving a foul.
We really hope to see Ben Arfa in a Newcastle United shirt again, and indeed wish him a speedy recovery. He has already said that he's overwhelmed by the support and good wishes shown to him by all the Newcastle United fans and hopes he can pull on a Black and White Shirt again. Get well soon Hatem, and get banned de Jong.
Comments always welcome 🙂
⚫️ ⚪️
---
Share Article On:
---
Filed Under: