Carroll & Nolan binge after the Sunderland victory, where do the media get off?
Words by Kevin Doocey on .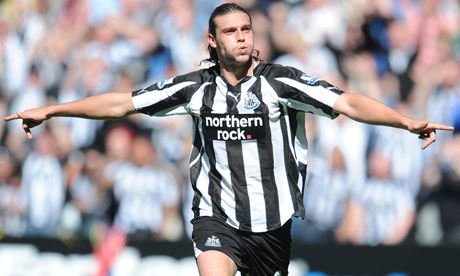 Carroll - Staying in Nolan's house since his courting hearing a few weeks ago
Well my latest article has been a long time coming and I apologise for that, however, I was intending on writing an article before the Tyne Wear derby about why on earth there was rumours of Chris Hughton being sacked, but when they won 5-1 it would've look a little suspect. Observing all the latest news about Newcastle in the latest few weeks has led me to inevitably write this article, quite frankly because I can' believe what I'm seeing day in day out. What can we say about the Sunderland win? Incredible stuff to say the least. The team are a unit that I haven't saw in a long time in a Toon shirt. Tioté, Barton, two marvels in midfield, with Nolan leading the line and Carroll doing his fair share. Mind you, that's before we even mention Shola Ameobi and the part he has played in Tyne-Wear derbies over the years.
However, people of course like reading good news, but to sell papers, you need some interesting headlines - something that captures the peoples imagination. Perhaps, it's the most important thing in good journalism. Hence the emerging articles about Newcastle United over the last two weeks or so. From rumours of Chris Hughton being sacked, which is utterly ridiculous with the Tyne-Wear thrashing aside. And now, today, we've an article about how Andy Carroll and Kevin Nolan went on a 14-hour binge, and then Carroll proceed to have an orgy with a brunette & a blonde back at captains house.
I'd be incredibly incredibly surprised if any of this was true, but it just really shows you how far the media will go to sell papers and get their readership another couple of pound up. The true intent of the media to destabilise what I must say is quite a stable club at the minute, is ridiculous. I just hope that #1 the Carroll orgy story isn't true, and secondly, that the lads will show them on the pitch how things are done - which they've done so far credit to them.
With Arsenal to face today, the media will watch intently for any reactions of either Carroll or Nolan, and will of course monitor Joey Barton too, in his interesting face-up to Samir Nasri once again. The lads are more than capable of getting a least a draw here at the Emirates, and there's reason why we can't sneak a win, just like West Brom managed not so long ago.
Stay updated during the match on our Twitter @TyneTime where we'll be sure to report Shola Ameobi's hat-trick and Nolan's brace.
Here's hoping!
Comments welcome 🙂
⚫️ ⚪️
---
Share Article On:
---
Filed Under: