Chris Hughton responsible for Andy Carroll's inclusion in England squad
Words by Kevin Doocey on .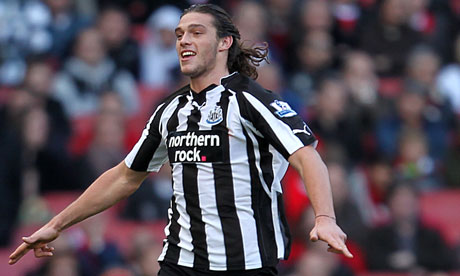 7 goals so far this season, including the memorable one against Arsenal at the Emirates to secure a truly inspirational win. Called up by Fabio Capello at the age of 21 to represent his country, it really doesn't get much better for the Geordie lad. It's not the fact he's one of our own that makes us so happy with him, it's the type of striker he is. A nuisance for defenders, a great header of the ball, an old fashioned CF to put it to you straight. He's not like a modern footballer really, doesn't wear the fancy boots, doesn't dive as if he has been shot by 5 snipers, and he certainly isn't afraid to get stuck in, like many of today's forwards are.
Andy made his real entrance into the fray, for me at least, with his bullet header against West Ham at St.James' Park in a relegation scrap. It finished 2-2, although we would've won if Jonas could only finish, however, we'll forget about all that!
Boasting braids at the time, the lanky Geordie powered home a header to signal his presence on Tyneside and well, the rest is history as they say.
However, a huge amount of credit is due to the gentleman that us Chris Hughton. Hughton oversaw Carroll's development even at a distance at times. When Hughton was drafted in as a coach for Kevin Keegan, he went unnoticed until he was handed the temporary managerial role at Newcastle, when we kept losing managers in that awful season. 4 in one season to precise.
Carroll has come on as a player a lot, and has added new things to his game, but has a long way to go to fulfill his potential, however, he owes a lot to Chris. Various reports came out about Carroll during the Championship season last year that could have forced any manager to part with Andy, however, Chris kept faith in the lad, and he continued scoring.
His winner away at Doncaster, a day after he scrapped with Steven Taylor is one of his goals I won't forget for a long time, and especially the gloves he wore to cover up a fractured hand!
These rumours still exist but Chris just continues to play and work with Carroll, bringing him on as a player even more.
It's a great feeling to have a striker on our books that wants to stay at the club as long as he can, play in the Black and White jersey as much as he can, and indeed has the ability to be a World Class CF. I mean World Class too, he's the type of striker that every team wants, someone to win aerial challenges, score goals, and come up trumps when you need them most.
So far, Andy Carroll has done that, and lets hope he continues it.
If Chris had opted to sell the forward in the summer, and there was no shortage of interest, he could have easily banked £10m. A lot of people reckon Mr.Ashley would have welcomed the transfer, but we'll never really know. Hughton kept hold of him, and was aided by the fact that the player himself wanted to stay. Now, he's arguably our best player, and our source of goals as he has shown so far this season. He's the Premier League's top goalscorer alongside Kevin Nolan, who deserves a huge amount of credit for helping Andy too, and allowing him to live with him and his family. Ian Holloway described Andy Carroll as the best striker in the Premier League, however, we think that might be a little too generous from the ever exciting Blackpool boss!
Either way, if Chris Hughton can keep working with Carroll, and Andy himself continues to get help from both Kevin Nolan and the people around him, then we could well produce England's next #9.
The main thing is that he doesn't aggravate his groin injury, and that he gets back to full fitness. We'll need his goals and assists this season for sure.
We here at Tyne Time think it'll a close fought encounter.
Comments welcome as always 🙂
Be sure to follow us on Twitter @TyneTime, where the updates are short and sweet, unlike Big Andy!
⚫️ ⚪️
---
Share Article On:
---
Filed Under: