Steven Taylor close to signing long-term Newcastle United deal
Words by Kevin Doocey on .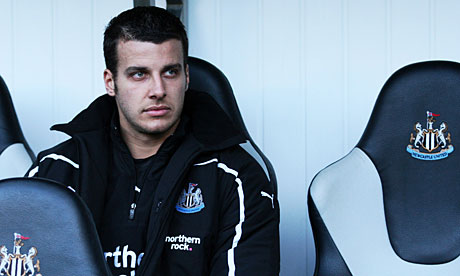 A lot of people seem to have lost faith and perhaps respect for Steven Taylor over the last few months, with the debacle over where his future lay very much up in the air.  We read reports of Steven wanting close to £60,000 a week if he was to sign a new deal, and this outraged some Newcastle supporters, rightly so. However, his agent, and the controversial one at that, came out and dismissed any idea of Taylor wanting those outstanding wages, and said he just wanted to play for the club he loves. We're still not really sure what the story is with Steve, but we know Chris Hughton wants to keep him long-term, and obviously has good reasoning too.
Taylor is a Geordie down to his bones, and relishes playing the Black and White of Newcastle United. He sustained a bad injury quite a while ago which kept him out of our Premier League start and if you ask me, he'll find it hard to make his way back into the starting eleven when Mike and Fabricio are back. That said, he and Sol had a very good game at the back against Chelsea in a game which we drew, and it also seems as if he has ironed things out with Big Andy, a question that was on the mind of many people before the game.
The centre-back only has a few months left on his contract and you can see why Chris is eager to sign him up to a new shiny one. We really wouldn't like to see this guy walk away at the tender age of 23, and especially to Tottenham Hotspurs. We know what Harry can do with players, and I have no doubt that he'd transform Steven into one of the best CB's in the Premier League.
Reports emerged yesterday of Taylor wanting the Spurs move, but that has been since quelled. To be perfectly honest, I'd be very surprised if Taylor doesn't stay at Newcastle United, and sign the new contract on offer. It's also worth noticing that Steven Taylor was transfer listed during those difficult talks months ago, and it's believed that he has only been removed from the transfer list in the last couple of days!
Anyway, I'm sure this will be all sorted out before Christmas, and the main thing on our minds has to be our upcoming game against West Brom in three days time. It's really crucial that we at least get a point at the Hawthorns because we have even tougher ties to come. After Brom, are Liverpool at home, a game which I think we're very capable of winning if we play to our potential. Only time will tell.
I think it's fair to say that the footballing world raised eyebrows at the score at the Nou Camp on Monday, a staggering 5-0 to Barcelona against their arch rivals Real Madrid. A Real Madrid that possessed the unbelievable in form Cristiano Ronaldo, but it just so happened that Barcelona withheld the even more incredible Lionel Messi, who again put in a World Class performance. Anyway, I didn't have any money on it unfortunately, but I did have money on Mallorca beating Malaga, which thankfully happened.
And BTW, make sure to follow us on Twitter @TyneTime. We do regular updates throughout most Newcastle United matches, live commentary if you like, only it's far quicker and far more accurate than any BBC, Sky Sports Live Score facility!
Comments welcome 🙂
⚫️ ⚪️
---
Share Article On:
---
Filed Under: