Newcastle United 3-1 Liverpool – A Tribute to Chris Hughton
Words by Kevin Doocey on .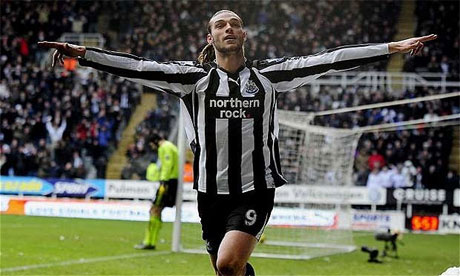 Carroll - Scored a peach of a goal today in a very good win dedicated to Chris
First things first - what a brave man Mike Ashley is showing up to Newcastle United v Liverpool today. I didn't expect to see his unsightly figure in the luxurious stands of St.James' Park during Alan Pardew's first game in charge. However, I expect it was exactly that that lured the owner to the game, to oversee his new signing, and to decide whether he needed the sack just yet.
Anyway, it was an excellent win for Newcastle today, with the lads showing real class and professionalism in the way they went about their business. Alan Pardew might look like he's got off to a great start as manager of Newcastle United and he has, but that win was for Chris and indeed Mr. Hughton is responsible for the precious three points that we managed to get this evening.
A nice opener by Kevin Nolan, a brave finish from Joey Barton and a moment of sheer class from Andy Carroll, to gift Nolan his 8th of the season, Barton his 2nd, and Andy his impressive tenth strike of the season.
However, as delighted as I am with the win - and are all the Newcastle United fans, it really annoys me to see Mike Ashley & Derek Llambias's reactions to the goals. I got the vibe that they were proud of their selection as manager, as if he had guided the team to instant success, and for once they were actually spot on with their appointment.
Believe me Mr.Ashley - Nothing in that win was because of you, I have no doubt Chris Hughton would have guided us to that win too.
With that said, credit to Alan Pardew, and especially in the way he conducted himself since his appointment and in the aftermath of the game. He dedicated the win to Chris Hughton, and made sure, in my opinion at least, to distance himself from the win.
He thanked the players, and it was warming to hear Kevin Nolan's interview with the BBC afterwards. He said that we had to move on, the players weren't causing any revolt, and that the players were all behind their new manager, Alan.
Perhaps I misunderstood but I think Kevin Nolan mentioned something about the owner meeting the players and explaining the situation, and why Chris was sacked which no doubt helped the players that little bit.
As you all know, Chris celebrated his 52nd birthday today and from all of us at Tyne Time, we'd like to extend a Happy Birthday and a big thank you to Chris for all the work he has done at the club. He brought us back us, led us to a historic thrashing of our bitterest rivals, a classy 0-1 away win at the Emirates and a Cup game never to be forgotten, 3-4 Chelsea, Stamford Bridge.
Thanks for the memories Chris!
Comments welcome 🙂
⚫️ ⚪️
---
Share Article On:
---
Filed Under: