Do Newcastle United need to sign anyone this January transfer window?
Words by Kevin Doocey on .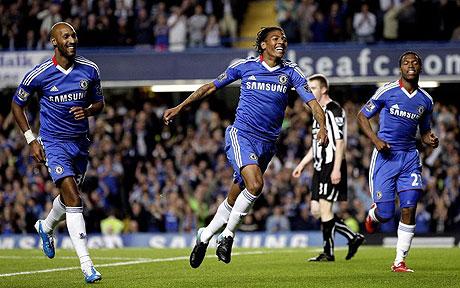 A lot of people aren't really sure of Alan Pardew yet, and one of the areas he can send out a message to Newcastle United fans is in the transfer market. In 10 or so days times, the January transfer window will open for business. Teams will enquire for players, other will try their utmost to hang on to their key men. Indeed that's what I expect us to do this January, try keep Andy Carroll, Joey Barton and some of our youngsters at NUFC for the remainder of the season. Reports keep coming about teams weighing up bids for Andy Carroll this window, but as much as Andy says he wants to remain a Newcastle United player, we really don't know what the story will be come the New Year. Quite frankly, we do not know what Mike Ashley will do next, it could be anything.
I really cannot see us recruiting anyone new this January, and mainly because there will be no cash available for Alan to go searching in the markets, and perhaps we don't really need anyone new. I mean, we have a very very good squad compared to other teams in the Premier League - West Brom, Bolton, Blackpool, Wigan, Blackburn Rovers, to name but a few.
Credit to Owen Coyle's Bolton Wanderers though, he has got the team playing excellent football and is performing well above expectations. It just goes to show that you don't always need big names to win games, but instead a good team spirit, and willing individuals - something I gladly can say Newcastle United very much have.
Personally, I would like to see Patrick van Aanholt arrive on Tyenside in January, to boost our ranks at left-back. Jose will at some stage I'm sure pick up a knock or two, and we will have to rely upon Shane Ferguson, the Northern Irish lad to fill in. I have no problem with that, but we cannot afford to go through a Premier League, and other cup campaigns with just two natural left-sided defenders. If we managed to get Patrick on loan then we would have depth in that position, and we already know what the lad is like - from his loan spell last in the Coca Cola Championship.
With that said, the odds of us getting him on loan in January are very low, as he is back-up for Chelsea themselves. Although, the only time I have seen the lad play this year, was against us in the Carling Cup - a game which he scored in too, but an encounter which Shola Ameobi settled in the final minute.
The important thing this New Year is that we do not lose anyone in the transfer window. We really cannot afford to lose any personnel. We do not know what Alan has planned, or indeed Mike Ashley himself, but it will all unravel in the new few months.
Let's just hope the hierarchy of this club do the right thing - for once.
Comments welcome 🙂
⚫️ ⚪️
---
Share Article On:
---
Filed Under: