Newcastle United close to signing Ben Arfa – An early Christmas present?
Words by Kevin Doocey on .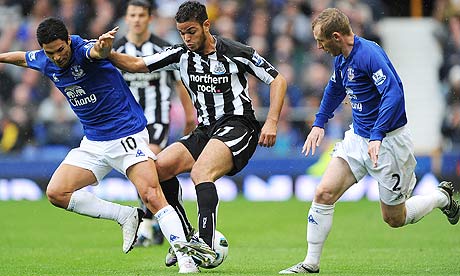 #### Ben Arfa - Wants to play for Newcastle United and is looking for permanent deal
We may well be in for an early Christmas present with the new that Hatem Ben Arfa, could be quite close to a permanent deal at Newcastle United. The French winger who joined this summer thanks to Chris Hughton, played less than five games, in which he scored a stunner against Everton at Goodison Park, in an excellent away win. Unfortunately, the terrible tackler that is Nigel de Jong broke the Frenchman's leg - in places, in a needless tackle where the winger was going nowhere. However, amidst all the recovery, Ben Arfa is set for an earlier than expected return and could well feature before the season finishes. He has reiterated time and time again how happy he is at Newcastle United and that he would like to stay permanently. Music to Toon fans no doubt, and it seems as if the hope he will play in a Newcastle United shirt again next season, may well come a reality in the New Year.
I reported months back of what a signing this would be for the club, and what intent Chris Hughton had. It is funny to see how things have changed since then, with Chris being unfairly sacked and Alan Pardew taking over the reigns more than a fortnight ago.
However, it seems as if Pardew wants to continue Hughton's good work, by both keeping his star players in Carroll and Barton etc, but also in signing (hopefully) Hatem Ben Arfa on a permanent deal.
There was a clause in the Frenchman's contract that allowed him to leave for £5m should be play 25 games if I remember correctly. The odds of that happening aren't too good as is, but rather than wait for other teams to weigh up their options and perhaps go in for the on-loan Marseille playmaker, it seems as if Alan Pardew would like to sign him in January, and may well have the financial backing of the board to do exactly that.
This signing, if it indeed happens - but the real truth is, there is only one obstacle stopping Hatem Ben Arfa signing a long-term contract with Newcastle United, and that is an agreement of the fee between the two clubs.
However, we must look at this from two ways; the fans perspective and the view of the hierarchy of the club.
I look at this as perhaps a minuscule apology to Newcastle fans for the absurd sacking of Chris Hughton, and the true instability he has brought to the club throughout the years. The board might think this will help us somewhat forget the burden he has landed on every Newcastle United fan, but it won't - far from it in fact.
The reports are quite strong coming from France regards Ben Arfa's possible transfer to Newcastle United and across Twitter too.
We can only wait and see as I have said many times, but we certainly hope that come January Hatem Ben Arfa is a permanent Newcastle United player.
Make sure you follow us on Twitter too @TyneTime, we break the important news there first, so if anythings happens on a NUFC newsfront, our Twitter will have got hold of it as quick as anyone else, often before others too!
Comments welcome 🙂
⚫️ ⚪️
---
Share Article On:
---
Filed Under: