Newcastle United should venture in for Jô with Edin Džeko set for January move
Words by Kevin Doocey on .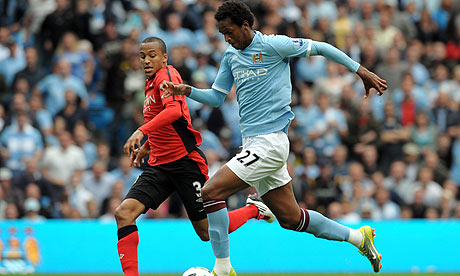 #### Jô - Would be an extremely good addition to Newcastle United this January
It is very likely that Edin Džeko will join Manchester City this January in a €35m move come January as VfL Wolfsburg have lowered their asking initial asking price. Another ridiculous fee to pay for a striker who I can only guess would be delighted to join the club for its wages. Don't get me wrong, Edin is a fine talent and will score a lot of goals given the chance, but he isn't worth any more than £17m in all honesty. However, we needn't worry about all this commotion because surprisingly, it could spell some good news for Newcastle United as a club.
Firstly the arrival of Džeko will hopefully and more than likely end Manchester City's interest in our prized asset Andy Carroll. Mancini no doubt carried some interest in the commanding CF and it's more than known that if City had indeed failed with their final bid of around €35m for Džeko, then Andy Carroll was next on their list.
Secondly, the arrival of yet another striker means that the likes of 'fringe' players such as Emmanuel Adebayor, Craig Bellamy, Roque Santa Cruz, Felipe Caicedo and indeed Jô. In all fairness, I think any of those strikers would come very close to definite starters up front for any other team in the Premier League. Adebayor cost somewhere in the region of £25m, Jô around £18m, Santa Cruz £16m + and Bellamy a meagre £11m.
This is a just a slight example of how Manchester City have shamed the world of football by splashing out needless millions on overrated players, and I haven't even began to mention any midfielders, defenders, keepers, with many more of them primed for an exit at Eastlands.
With that all said and done, one of the available players this January must surely be the Brazilian Jô. The 23 year-old striker arrived for nothing short of £18m and has played nothing short of 18 games for the club. £1m a game - seems a good deal indeed, mind you he has even scored a goal or two as icing on the cake.
Now why on earth do i think he would be a good addition to Newcastle United? There are many reasons, and to sum it up - he hasn't showed his real potential at Manchester City, or rather has not been given a chance to do so.
The lad can finish, and can head the ball well as you would expect for someone over 6 ft tall. On loan at Everton last season, he showed what he could do and grabbed something in the region of 5 goals for the club in a small amount of appearances.
Alongside Andy Carroll it could well be a lethal combination, and as much as I know we need someone pacy, light and that can finish Jô could compliment Carroll quite well. I cannot speak for the lad himself or tell you exactly how good he would be on Tyneside but I would be more than willing to give him a chance, and I'd be confident he would bang a few goals in.
I think he would leave for NUFC, on loan anyway. His realistic value now is about £5 or £6m but I wouldn't splash that out on him. If we could get him on loan with an option to buy at the end of the season if we wanted to, for £5m then I think it could work out quite well. Just like the Ben Arfa deal, but not committing too much too soon.
It'll probably never happen, but if I was manager I would certainly make an enquiry for him, and maybe even a loan move for Shaun Wright-Phillips too.
Feel free to voice who you think Newcastle United should sign this January, if we manage to sign anyone at all!
Comments welcome 🙂
⚫️ ⚪️
---
Share Article On:
---
Filed Under: