Dear Alan Pardew, Please do not sign Robbie Keane
Words by Kevin Doocey on .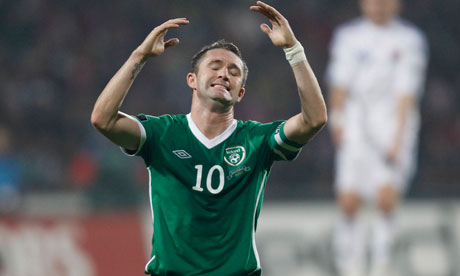 I have noticed in the last couple of weeks amongst many Newcastle United fans, how excited they are at the prospect of Robbie Keane arriving on Tyneside. I however, do not want the Tallaght man to join Newcastle United and a lot of Irish NUFC fans are in agreements with me. Of course, you will wonder why I do no want to sign a proven striker, that has scored at the highest level , from the World Cup to the Premier League, indeed a forward who has scored goals anywhere he went. Well, it's all good and well in the Premier League for Spurs when he had the likes of Luka Modric, supplying him, but if he comes to Newcastle United, we'll really see how good he is. First of all, he will demand huge wages, and more than likely look to match the highest earner at the club. Secondly, his contract will require quite large goal bonuses, and finally he just isn't worth the rumoured £5m fee that is being mentioned.
The likes of Robbie Keane are not the type players we should be looking for. As we saw yesterday, players from less looked at leagues like Cheik Tiote from FC Twente should be sough after. There are loads of little gems in either Holland, France or indeed Belgium.
We needn't be signing a past it striker who of course would love just to play out his final days in front of 52,000 people, and get well paid for it. We've had too many of those at the club already.
Now saying that, he (Keane) could very well arrive, and Alan Pardew has had no hesitation in admitting his interest in the Irish striker. He could well keep us up with goals every week, but I just don't think so.
I've watched the guy throughout his Irish career, and he is probably, if not definitely - the most frustrating forward to watch I've ever seen.
He tries to do the fancy finish, or the elegant flick at every opportunity. I have seen him waste easy goal opportunities when it has been easier to score, and misplace a basic pass when it was simpler to blow it in his team-mates direction.
Of course we need someone to aid Andy Carroll, but Robbie Keane is not this someone.
I've said it before and I'll say it again, give Xisco a chance to show what he can do. He has a lot more potential than people think, but unfortunately has not, and probably will not be given the chance to show the fans what he can do.
As for Leon Best, he nearly broke his duck yesterday for NUFC and I would've broken into tears if he had put his shot away!
Alan Pardew has said he doesn't exactly plan on offloading Best either, and his appearance yesterday may signal more cameos to come for Robbie Keane's international teammate.
We've got Peter Lovenkrands, Nile Ranger, Leon Best and Xisco. We do not need Robbie Keane Mr.Pardew.
Also, if you're not following us on Twitter, make sure you do. We update regularly there, up to 10 times a day, and cover most matches minute by minute, unlike the other score engines. Follow us @TyneTime.
Comments welcome as always 🙂
⚫️ ⚪️
---
Share Article On:
---
Filed Under: