Liverpool will undoubtedly venture in for Jose Enrique in the summer
Words by Kevin Doocey on .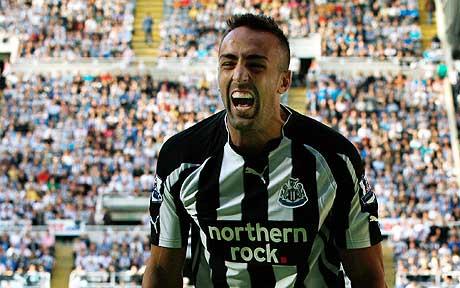 In his first real season in the Premier League Jose Enrique has shown his critics why Newcastle United splashed out £6.25m on him during Sam Allardyce's short reign at St.James' Park. Enrique has turned in world class performances for the majority of the season and unsurprisingly, has attracted interest from some of the top clubs in England and indeed throughout Europe. It is believed an initial enquiry from AC Milan for Jose was turned down rather abruptly during the January transfer window but with only 18 months let on his contract; clubs are circling like vultures, eyeing up the soon-to-be Spanish international.
Liverpool have emerged as favourites for the Spaniards signature should the attacking full-back decide to leave, and there is little doubt that they will try their luck whether Newcastle United remain a Premier League or not come May.
Jose himself has told NUFC that he will wait until Newcastle United are safe from any relegation threat before committing to a long term contract.
This is already worrying some Magpie fans and understandably so. What we have at the moment is a very rare left sided full back. He is probably one of the best Premier League LB's at the minute and if you ask me, based on recent form has ousted Ashley Cole performance-wise. At only 25 years-old, Jose has great strength and many wingers have failed to get past him this season. If any such players have been lucky to out-muscle the wing-back, Jose will have pegged them back with his blistering pace.
The combination of strength and pace is always a combination for a very very prosperous left-back, but we haven't even come on to his potential going forward or his crossing abilities yet. As we saw against Blackburn; Jose can run the pitch, put the ball right on players foreheads, and get into very threatening positions indeed. It sounds like I am describing Ashley Cole here, but Jose really does have everything to be a world class full back.
With that all said, Liverpool will without a doubt look to sign him up either way. For a start they have problems at LB, and since Konchesky's departure, they have sought a natural left sided defender.
Secondly and most importantly, they want Jose Enrique to assist Andy Carroll at Liverpool. Perhaps I'm being a tad harsh on Liverpool, but I cannot see their wingers landing many balls onto Andy, with Maxi & Kuyt looking slightly out of place on the wings when they have played there.
Kenny Dalglish is looking to acquire Jose to help Carroll get Liverpool's much needed goals, and is hoping that their partnership could help Liverpool challenge for next years Premier League title.
Of course all of this is disheartening to hear as a Newcastle United fan but as of now Jose is a NUFC player, and seems to love the club, the fans and the city. He seems a very Georide-ish player which is very heartwarming to see but alike Andy, a potential move to Liverpool with European Football beckoning will be rather tempting indeed.
All in all, we do expect an approach from Liverpool for Jose in the summer whether we stay up or not but we think he might just sign a new deal, to put his transfer valuation at the very least.
The most important thing is that we achieve safety in the Premier League as fast as possible, and indeed tie our star players down to long term contracts at St.James' Park.
This unfortunately, is often easier said than done.
Comments welcome 🙂
⚫️ ⚪️
---
Share Article On:
---
Filed Under: