Why Cheik Tiote's new 6½ year deal fails to excite
Words by Kevin Doocey on .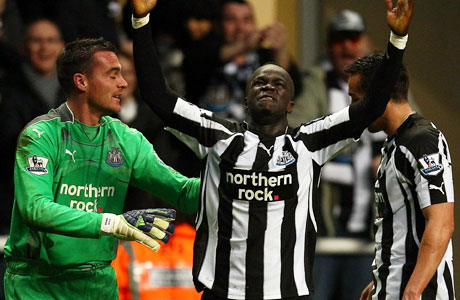 One man who won't be short for money for years to come is our very own Cheik Tiote, after signing a new six and a half year deal with Newcastle United. Tioté, who had been linked with moves to Chelsea, Arsenal and even Manchester United put pen to paper on a rather outrageous deal in all honesty. It is one of the longest contracts I have ever heard of in football and if we're to be realistic  here, he will not see out those years at the Toon. You may think I'm against this new contract, but like any other NUFC fan; I'm happy that we've ended any interest in him for quite a while.
First things first though; credit to Graham Carr and the Newcastle United scouting team for picking this guy out. He cost a meagre £3.5m and we'd easily get £10-15m for him tomorrow morning. Signed from FC Twente, the African has shown a real grit about his performances, reminiscent of a young Michael Essien. Strength, tackling, man-marking are all high points to Cheik's abilities.
With that said, he needs to improve his discipline in order to progress even further as a footballer. If he picks up a yellow card today against Bolton Wanderers which I suspect him to then he'll miss our next two games, and he'll be a big loss in the centre of the park for our upcoming games against Everton and Stoke City.
Back to the point though. Cheik Tioté today said he was very happy at Newcastle United and wanted to stay there for quite a while, hence him signing a new shiny contract. However, if you're happy at NUFC then there should be no confusion as to whether you'll renew your existing contract or not. 6.5 years is a ridiculous contract to award someone, and its even more questionable when you up the guys wages by a staggering £32,000 or so, per week.
I'm a big fan of Tioté don't get me wrong but there was no purpose for this contract besides hiking his potential selling value and of course its a gesture by Mike Ashley which he hopes will ease the Andy Carroll sale that bit more. Although, you can't blame him for selling Carroll whatsoever.
Will Tioté see out this new contract? I'd very much doubt it.
Either way - if we sell we'll get a very good fee for him, and if we don't then we'll still have a gem of a player on our hands.
It's a win-win for NUFC really.
With that said, it will end any speculation regarding the man from Côte d'Ivoire and that is never a bad thing.
We've also organised a prediction challenge with Leazes Terrace for the rest of the season.
Starting in todays game against Bolton, both sites will try guess the exact scoreline of the game.
3 points for the correct scoreline and result, or 1 point for predicting the winner alone.
Simple enough, and will add a bit more interest to the remaining NUFC games.
Starting off with Bolton at home, we have both gone for a 2-0 Newcastle United win.
Comments welcome 🙂
⚫️ ⚪️
---
Share Article On:
---
Filed Under: