Cheik Tioté reveals he rejected move to Chelsea in January window
Words by Kevin Doocey on .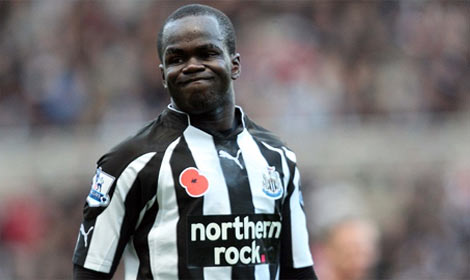 Tioté - Opted to stay at Newcastle United in January despite Chelsea interest
In an interview with a Sunday tabloid Cheick Tioté revealed why he opted to stay at Newcastle United and sign a 6.5 year long deal.
Tioté who we know already is one of Newcastle United's best players this season signed from FC Twente for a small fee of £3.5m, compared to what he is worth at this moment in time. He played his part in the World Cup with Ivory Coast and to be honest; that is where I personally first heard of him. I didn't know what a gem of player we were really getting until his first 5-7 performances or so.
Interestingly, Tioté also revealed he turned down the chance to join Chelsea in the last transfer window which confirms something: he wants to play for Newcastle United.
In my last article I questioned how passionate or loyal Tioté actually was to Newcastle United but if the rumours are  true and he did indeed reject a big money move to Chelsea then I hold my hands up. The only question I really have is whether an official bid for the Ivorian was made on Chelsea's part, or was Cheik only relating to the rife speculation at the time?
Could you imagine what a transfer window it would have been if we had lost Cheik on top of Carroll? No doubt we would have banked something in the region of £50m combined, but we would be in a much worse situation than we are now had the former Anderlecht man departed for London.
It is somewhat disheartening to up his wages to a what is now a reported £50,000 a week but if players are performing week in week out then they deserve their money - Alex Ferguson will tell you that every day of the week.
INdeed Tioté has been performing well and long may it continue in a Newcastle United shirt.
As well as all of this, there are lingering reports in France that NUFC have had minor discussions with Lille over a summer transfer for Gervinho. The Lille forward, who is an international team-mate of Cheik Tioté is available for around the £10m mark - which is a risk but if he can play to his potential then he'll be a big big star at Newcastle United FC.
£10m is a lot of money for NUFC but if we secure our Premier League status, which looks increasingly likely; we'll have the finances to fund a deal like this and perhaps a couple more in the same region.
We have £35m plus add-ons to spend from Big Andy's transfer and Alan Pardew has told us over and over again that all of it will be spent on the team and indeed new signings.
If we can recruit players like Tioté, Ben Arfa, Simpson then we'll have a very bright future indeed and that's even before I mention the young homegrown players we have breaking through the ranks ourselves.
Comments welcome as always 🙂
⚫️ ⚪️
---
Share Article On:
---
Filed Under: