Alan Pardew can help Stephen Ireland rediscover his top form at Newcastle United
Words by Kevin Doocey on .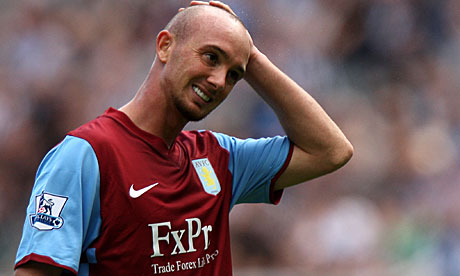 #### Ireland - Can be a quality player under Alan Pardew at Newcastle United
It wasn't that long ago when the we all watched Stephen Ireland become Manchester City's Player Of The Season - less than two years ago in fact. The Cork-born midfielder excelled under Mark Hughes whilst Manchester City manager but since then the big spending Italian Roberto Mancini took the reigns and made it clear very quickly that he didn't see a future for Ireland. After spending time nowhere near the City team Ireland eventually secured a move away from Eastlands: ending up at Villa Park.
As you know Martin O'Neill resigned and a forever bewildered Gérard Houllier took over. Ireland has failed to motivate himself or indeed allowed the Villa coaching staff to do so and was loaned to Newcastle United in the final few minutes of the January transfer window quite anonymously with Andy Carroll's move the main headlines.
A lot of Newcastle United fans were unhappy with this signing, mainly down to the fact that he was not fit when completing his move.
After working on the training ground and in the gym; Ireland is finally ready to pull on a Black and White jersey and get his season rolling. I'm personally enthusiastic about his future at the club and if he does well in his spell on loan, perhaps we could acquire him on a permanent basis in January.
With that said he is a temperamental character. Refusing to play for his country, (who we could badly do with!) falling out with Houllier & Mancini and indeed in past having feuds with players on the same team as him - he's a tough cookie to manage. The again we've managed Barton pretty well and there's no excuse as to why we can't get his best form back again.
Its only a loan deal so we haven't committed long-term financially besides the loan fee, which was probably in the region of £250,000 to £400,0000  so the pressure is off for him - allowing his quality to shine through while helping Newcastle United finish the Premier League campaign in good style.
Alan Pardew has shown in the past and so far at Newcastle that he can manage the toughest of personalities - after all he is employed by Mike Ashley! He has the man management skill to nurse Ireland back to his best days and get him playing football to a level which we know he can.
He may well get a cameo, or start against Everton tomorrow in a game we shall win - I have no doubt 😀
Ireland himself updated his Twitter with:
'Back fit and raring to go, always do well against Everton! '
That's the most postive things he has said all day!
Tyne Time Prediction : Newcastle United 2-0 Everton (10.0 Betfair)
Comments welcome as always 🙂
⚫️ ⚪️
---
Share Article On:
---
Filed Under: