Alan Pardew has done a very good job at St.James' Park so far
Words by Kevin Doocey on .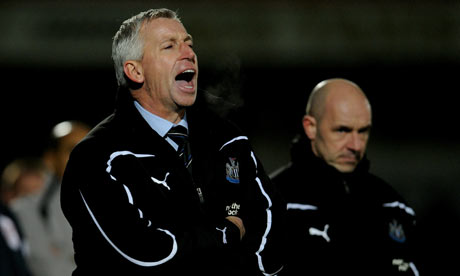 I'll be the first to admit that when I heard Alan Pardew was close to coming the next Newcastle United boss after the shock dismissal of Chris Hughton I felt sick. Why would we replace a top man like Hughton who was doing a great job in his first season in the Premier League as manager with a guy who's last job was at Southampton; A League 1 side. It didn't make sense at all. However , Ashley went ahead with his plans and Alan Pardew was appointed Newcastle United manager just in time for the game at home to Liverpool, on a five and a half year contract.
We couldn't have started better, beating Liverpool 3-1 at home with Andy Carroll scoring a thumper from distance. Now he will be looking to do the same in a Liverpool shirt in the next few years. Pardew did the smart thing in distancing himself from the victory, claiming it was a Chris Hughton team that played out there and that inevitably got the three precious points.
Next the senior players came out in support of Pardew, saying they liked what he had to say: Kevin Nolan, Steven Taylor in particular.
In fact it seems as if the appointment of Pardew delighted the then transfer listed Taylor as he was handed a new lengthy contract keeping him at the club for the foreseeable future.
We lost our next two games, but in spirited fashion, something that helped Newcastle United fans accept him; slowly but surely.
A good win away at Wigan in a very comprehensive display followed by a rout at home to West Ham including a Leon Best hat-trick on his first start for Newcastle delighted Toon fans as we were picking up much needed points towards our safety in the Premier League.
A loss to Stevenage, draw away at Sunderland in a game we dominated, a draw with Tottenham Hotspurs in a match we conceded in the 94th minute and a loss away to Fulham in an unconvincing performance saw Pardew face the realities of a Premier League boss; the ups and downs.
His best was yet to come though.
At home to Arsenal, we always have a good chance. Well after 20 minutes, we had a good chance of getting a hiding that the Premier League had never witnessed before. 0-4 down within the half way mark of the first half; things weren't looking good at all.
The lads we in at the break, and 45 minutes later: they had completed the best ever Premier League comeback.
Four goals, in quicker fashion than Arsenal themselves saw Joey Barton score two from the penalty spot, Leon Best snatch one and finally: Cheik Tioté score one of the most memorable goals he will ever score in his career and indeed a goal Newcastle United fans will forever remember.
Pardew was credited for his team-talk, a HT team-talk that included a fit of rage, and hurdling a host of objects in different directions.
It worked a charm, and as the manager said himself, it was probably the proudest footballing moment of his life. (The comeback, not the rage!)
So about now? Since the Arsenal draw, we've grabbed two draws and a very impressive away win to Carling Cup holders Birmingham although last weeks loss to Everton was somewhat disappointing.
All in all, he has convinced me, he has got the defensive in very good shape and our setpieces are improving all the time. The players seems to like him; he seems a players manager.
If he can continue his good work with his backroom team then we have a bright future as long as we recruit 4 or 5 god players in the summer.
Comments welcome as always 🙂
⚫️ ⚪️
---
Share Article On:
---
Filed Under: