Newcastle United have a stronger midfield than their opponents tonight
Words by Kevin Doocey on .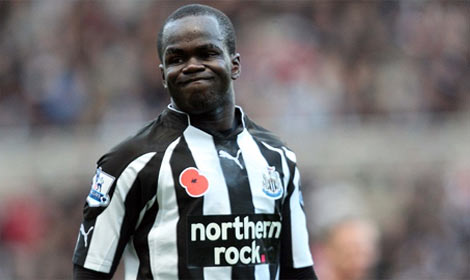 Tioté - Will be crucial tonight if he can keep his discipline for the 90 minutes
Tonight's game is a game people have relished for many many years. Newcastle United and Manchester United locking horns always seems like quite a big game, a game between two big sides when reality there is one far superior side lining out on most occasions and it hasn't been us for quite a while. However, a home tie against the Red Devils always brings excitement and we are sure to have a full house at St.James' Park tonight. The encouraging thing is that we have a stronger midfield that Alex Ferguson's side tonight. Michael Carrick and Ryan Giggs could feature in centre-mid this evening, but there could be a few changes in their line-up before kick-off.
Either way, I believe, and confidently believe that we have more than them in the centre of the park, and will hopefully show that tonight.
Cheik Tioté is back from suspension which is a massive boost but as Alan Pardew said earlier this week; he needs to watch his discipline. He will be fired up for a match like this and will try to impress alike everyone else on the pitch, however you just get a feeling that he might commit a stupid foul in a dangerous position, or get a stupid yellow going for a ball that was never his.
Alongside him tonight could well be Stephen Ireland, who is on loan from Aston Villa, and indeed is hoping to secure a move away from Villa Park at the earliest opportunity. He has 6 games to prove that he is worthy enough to wear the Black and White NUFC jersey, and should he be deemed capable - Alan Pardew will make a bid to bring the Irishman to St.James' Park on a permanent basis.
Ireland & Tioté could be a very interesting partnership and as I've said already; have more than enough to deal with what United have in the centre of the park. With Ranger up top; I would confident that there will be a few chances created in our favour.
Manchester United have more or less won the Premier League (again) after Arsenal unfortunate result at home to Liverpool on Sunday and indeed their 2 other goalless draws at home to poor opposition (Sunderland & Blackburn).
They wouldn't really need 3 points here, but Ferguson wants United crowned champions at the earliest opportunity and will be eager for the full 3 points tonight.
Pardew on the other hand will be eager to mathematically confirm Newcastle United's safety as soon as he can. Any result against United tonight will be a bonus for sure, and hopefully 3 points against Birmingham at home should see us a Premier League team next year.
I would be quietly confident that we can get a result tonight. Preferably 3 points, but I have a slight feeling it will be a draw, 1-1 perhaps. Even though people will be expecting an onslaught from Manchester United; I think we can have our own 'moments' in this match. As long as we do not start in the fashion like we did against Arsenal at home and manage to finish the game in the way we did against Arsene Wenger's side then I'll be a happy man! 😀
Prediction: Newcastle United 1-1 Manchester United
Comments welcome as always 🙂
⚫️ ⚪️
---
Share Article On:
---
Filed Under: