Do you really want Gervinho at Newcastle United next season?
Words by Kevin Doocey on .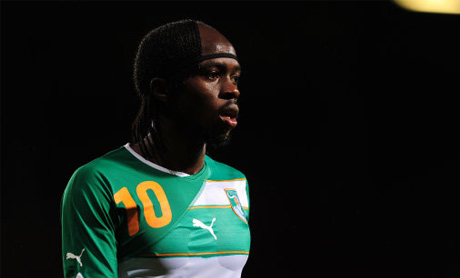 Gervinho - Strong links between him and Newcastle since Hughton's time
The rumours regards Gervinho's future at Lille have been circling for the past 18 months. Lille signed the Ivorian from Le Mans for a fee of about €9m and he has been scoring goals quite frequently in Ligue 1, however he is already being linked with a move away from France and it is more than likely that he will make a move this summer. The question is to who. As you would have noticed; Newcastle United have been linked over and over with the guy, and he even commented on the supposed interest in him earlier this year. He said: 'Newcastle are a good team, but Lille are currently top of Ligue 1 and I want to play in Europe next year, so we'll have to wait until summer to see where I am going'. Nothing has changed since he said that statement, Lille are still top of their league and we are a decent team again!
The only other thing that has caught peoples attention is the emergence of Moussa Sow. Another striker for Lille, of African descent has been banging in the goals this season with over 20 already. As you would have expected - we have been linked, but I can't see us venturing in for him as his price tag would be enormous considering most clubs, unless they've been sleeping for the last 6 months, know we have £35m banked, and will have a large chunk of that to spend this summer.
The question however, is whether NUFC fans really want Gervinho at Newcastle United? I've seen mixed opinions regards the Ivorian and I for one would not pay anything more than £10m for this guy. I think he's quite frail and would take some time to adjust to the physicality of the Premier League but there is no doubt this guy can finish.
I just so happened to have seen a couple of Lille games, games which I had bet on Lille, and Gervinho on both occasions found the net and secured all 3 points for his side.
The biggest thing I noticed was the quick feet he has - he has the ability dribble beyond defenders and leave them standing. Granted that the quality of the French league is arguably poorer than in England but if he seems to have the agility to glance beyond full backs with ease.
He is a neat finisher too which has saw him rack up 12 goals: same as Kevin Nolan. If you happen to look at the top scorers in France you'll notice something obvious - we have been linked to the top 3, and a couple others in double figures for the season.
Kevin Gamerio too has been touted with a switched away from Lorient but the likes of AC Milan, and even Manchester United have been linked with his signature.
Do you want to see Gervinho wear the Black and White of Newcastle United next season?
He seems to be interested somewhat in moving from France and playing in England, but will it be for Newcastle?
As I said already, anything above £10m is pushing it for me, however Lille will no doubt look to hold out for €17m + before they let him leave.
I'm not quite sure he could cut it in the Premier League but I wouldn't be surprised if some club takes that gamble next year; will it be Alan Pardew's NUFC?
Comments welcome as always 🙂
⚫️ ⚪️
---
Share Article On:
---
Filed Under: