Lille's Yohan Cabaye the inevitable replacement for the loyal Joey Barton
Words by Kevin Doocey on .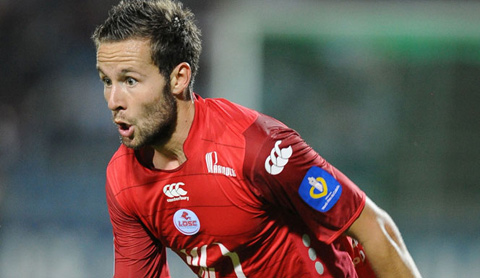 Cabaye - Likely to replace Joey Barton as the club looks to offload the POTS
The board at this club continue to confuse me with their antics. Firstly they sack an absolute gent of a manager who after bringing Newcastle United back to the Premier League at first attempt, was looking like he would finish midtable after some stunning results throughout the season - including an away win at Arsenal, Chelsea, Everton & indeed absolute routs at home to Aston Villa and Sunderland. After getting Alan Pardew in as his replacement - it's fair to say that Pards has done as well as he can, and the fans are taking a liking to the man. He respects the club, the fans, and indeed what has been a dream job for him to get - so very soon after leaving Southampton. With Andy Carroll's departure, the fans were once again complaining of the way the hierarchy; more notably Mike Ashley & Derek Llambias are running this club.
It doesn't seem to stop there however, as it is widely expected that our Player Of The Season Joey Barton will be ushered out the door as soon as possible, and has no chance of a new contract at St.James' Park.
Considering he one our best players at the club, and was partly responsible for us staying in the Premier League - it makes absolutely no sense to try offload him, especially when he is beginning the play the football of a player we splashed out £5.8m for those years ago.
Fair enough he might be on £55,000 a week - but I think he was as good as any other midfielder in the Premier League this season, especially when it comes down to assists made throughout the campaign.
It really is a testament to our current owners when they are looking to offload our official best player of the season. How many other boards at other Premier League clubs would do the same thing? Maybe I should rephrase that - how many successful clubs would sell one of their key players for no reason?
Of course Joey has a history with the board, and they did in all fairness stand by the lad when he was behind bars. However, just as he begins to repay the fans, the club and himself, he is told that he could have well played his last game for the club. Shocking stuff.
With Yohan Cabaye, who I can't say I've seen a lot of - besides playing with him on FIFA 11, destined to arrive on Tyneside in the next week or so: it seems as if he may well be either a short-term, or a long-term (one more season) replacement for the one time capped English international.
Joey, who has just joined Twitter is well worth the follow, and he's a lot more intelligent than one might think.
Check him out here, and of course, if you're not already doing so - follow TyneTime where we have all the news, quicker than we have it on the site.
Also - it might be worth noticing Joey Barton is 1/5 to join Liverpool FC. Sad.
Comments welcome as always 🙂
⚫️ ⚪️
---
Share Article On:
---
Filed Under: