Newcastle United 'agree terms' with Senegalese international Demba Ba
Words by Kevin Doocey on .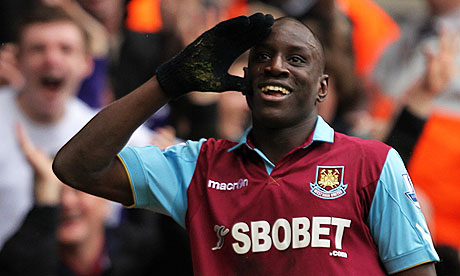 Ba - Reports are suggesting we have signed the African for a small amount
There are reports swirling around both Twitter and a few radio stations that we have signed Demba Ba for a minimal amount. The Senegalese international is supposedly a free transfer now after a clause in his contract was triggered, seeing him become a free agent courtesy of West Ham's relegation from the Premier League. I'm sure most of us will have noticed that he scored a nice few goals in his time at Upton Park and tried his best to keep them in the top flight. In fact, he scored on the day they were relegated from the Premier League - helping them into a two goal lead at the DW Stadium only for Wigan to come back and secure a dramatic 3-2 victory.
I for one would like to see Demba Ba at Newcastle United because I think he has the ability to grab a fair few goals a season, especially with Yohan Cabaye behind him! I remember the day I saw that Stoke City were closing in on his signature and I was quite disappointed because I had a feeling that his talents would not be appreciated at the Britannia in any shape or form.
However, that move broke down due to a failed medical, Ba's knee which caused serious concern for Stoke City manager Tony Pulis.
Only lately, there were more reports that the strikers knee could be one injury away from ending his career - and we wouldn't want that to happen on Tyneside, as we've seen that kind of stuff too many times before.
If we could keep him fit, and indeed manage to sign him up on a free transfer with average wages: then it will be a very good deal for Newcastle United.
He can score goals that's for sure, and we certainly need reinforcements up front. He is a risk, but I'd be willing to take that risk as he's still relatively young at 26 years old.
Providing he looks for normal wages, and we have some sort of clause in the contract so that we don't get screwed if his knee explodes then I say why not?
What do you lot think?
Comments welcome as always 🙂
⚫️ ⚪️
---
Share Article On:
---
Filed Under: