Newcastle United & Sunderland set to battle it out for Craig Gardner
Words by Kevin Doocey on .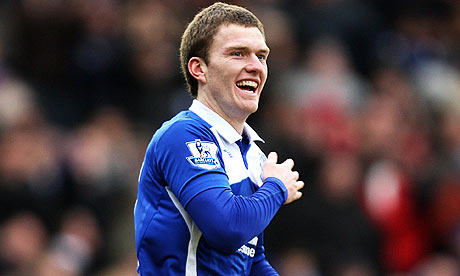 Gardner - In high demand after Birmingham's drop from the Premier League
Whatever players Sunderland are being linked to, it seems we're also looking to sign them. Of course that is usually the case, but now more than ever. From the top of my head, since the end of the season, the following players have been strongly linked with both of us: Jay Bothroyd, Sebastian Larsson, Demba Ba, Peter Crouch, Charles N'Zogbia, Emile Heskey, Kieran Westwood and now Craig Gardner , to mention but a few. Of course it's nearly always the case that neither of us end up signing the aforementioned players, but it seems as if we are scouting quite the same players. Of course, Sunderland are copying are targets, not us enquiring about theirs!
To be honest I'm not quite sure why we'd want Craig Gardner? We already have an abundance of midfielders in the squad. Joey Barton, Alan Smith, Dan Gosling, Kevin Nolan, Danny Guthrie & the new signing Yohan Cabaye as well, and that's before I mention some of the young lads that are hopeful of breaking through.
I don't really think there's much in this story, but based on betting patterns; a lot of money has come in for him to join both Sunderland & Newcastle with Sunderland being the odds on favourites at 4/5. We on the otherhand are at 7/2 to steal his signature, meaning we're either considering an enquiry, or have asked about his availability only to be quoted a fee that doesn't appeal to Alan Pardew or the board. Somehow I'd say it's neither of them.
if betting is anything to go by, and often is can be then odds movements suggest we are very very close to signing Demba Ba & Charles N'Zogbia. From 4/1 to join NUFC, N'Zogbia is now 6/4 - meaning that a considerable amount of money has come in for the Frenchman rejoining us. Ba on the otherhand is currently at 1/4 meaning that there's little chance that any other club stand a chance of signing him.
Then again anything could happen. As well as being on the verge of announcing the signing of Mevlut Erding, we are expected to snatch a left-back or two, in the coming weeks.
If we can wrap up the signings of Demba Ba, Charles N'Zogbia, Mevlut Erding & Neil Taylor then you can't deny it will have been a very very encouraging start to the summer transfer window.
Comments welcome as always 🙂
⚫️ ⚪️
---
Share Article On:
---
Filed Under: